Woman Suing Paula Deen Reveals Former Food Network Star Never Made Racial Slurs In Her Presence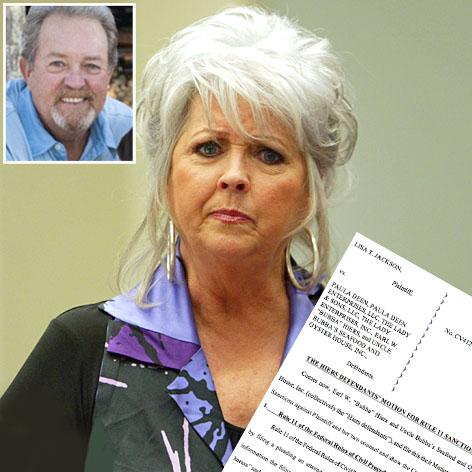 Former Food Network star Paula Deen never made a racial slur or used the N word in the presence of Lisa Jackson, who is suing the queen of Southern Cooking and her brother Bubba Hiers for sexual harassment and racial discrimination, RadarOnline.com has learned exclusively.
The 66-year-old was dropped from the Food Network after admitting to using the N-word during a deposition in a lawsuit filed by former employee, Lisa Jackson.
Article continues below advertisement
The Emmy-winning kitchen star was questioned for three hours in the $1.2 million 2012 lawsuit filed by the former General Manager of their Savannah, Ga. restaurant.
Lawyers for Heirs filed legal docs on June 21, seeking sanctions against Jackson for making false allegations during her deposition that Deen used the N-word in her presence. The motion also seeks to have the racial discrimination claim dropped.
According to court docs obtained by RadarOnline.com exclusively, "Jackson's deposition also puts the lie to her allegations regarding Paula Deen. Jackson testified that she has never heard Paula Deen make a racist remark, other than when she described what clothing she'd like the wait staff to wear at her brother's wedding.
"However, Jackson mentioned nothing about Paula Deen ever using the N-word."
Article continues below advertisement
Jackson is white, and therefore, shouldn't be allowed to sue on the basis of racial discrimination.
"The defendants assert that Jackson, a white woman, lacks standing to pursue race-based claims of discrimination," the docs state.
The former employee filed a second amended complaint against Deen and Heiers, alleging racial discrimination and that her nieces are bi-racial with an African-American father so "derogatory remarks regarding African Americans are even more personally offensive to Ms. Jackson than they would be to another white citizen."
However, during Jackson's deposition she "conceded that the nieces were those of her partner, Ms. Summerlin. Jackson proceeded to testify that the allegation in the complaint that the niece (there is a single niece of Ms. Summerlin) had a father who was 'Puerto Rican African American' and that she was 'very close' to the niece.
"Summerlin, however, flatly refuted Jackson's claim testifying that the young child's father was Hispanic, not African American, and that she hadn't seen her sister's children for years and had absolutely no relationship with them in the past five years!" the court docs said.
In closing, lawyers for Team Deen write, "Jackson and her counsel know that certain allegations for her race based claims are demonstrably false, and have no support in the law, yet they have pursued those claims in a stubborn effort at the personal destruction of defendants through this litigation."