Exclusive
Paula Deen Accuser Preparing To File Slander Lawsuit Against Celebrity Chef's Son After 'Extortion' Claim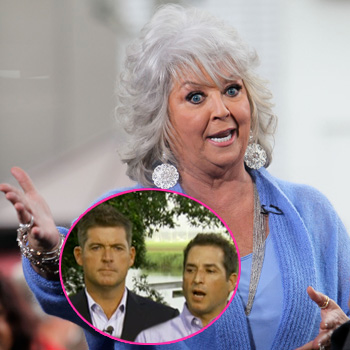 The woman suing the embattled queen of southern cuisine, Paula Deen, is preparing to file a new lawsuit -- this time, against her son Bobby -- after he charged that her lawsuit "began as extortion and it has become character assassination" during a CNN interview on Tuesday morning.
RadarOnline.com has learned that lawyers for Lisa Jackson intend on filing a slander and libel suit in Georgia, according to a source with direct knowledge of the case.
Article continues below advertisement
During the interview with Chris Cuomo, Deen sons Bobby and Jamie insisted the depictions of their mother were an effort by Jackson to get a chunk of the family fortune.
"These accusations are very hurtful to her and it's very sad. Frankly, I'm disgusted by the entire thing because it began as extortion and it has become character assassination," Bobby told CNN's New Day.
A source told RadarOnline.com: "What Bobby said was slanderous and libelous because he has accused Lisa of a crime. It also constitutes retaliation against someone who has filed an an employment discrimination lawsuit, under the Supreme Court's Section 1981.
"Her recourse is to now sue Bobby personally," the insider added.
Jackson's lawyer Matthew Billups declined to comment to RadarOnline.com when asked about the new court action.
Jackson, the former general manger of Uncle Bubba's Seafood and Oyster House in Savannah, Ga., sued Deen and her brother Earl "Bubba' Hiers for $1.2 million in 2012, claiming he sexually harassed her for five years, frequently used the the word "n*gger", referred to President Obama as a "n*gger" and watched pornography on work computers.
Article continues below advertisement
In a deposition for the case, Deen admitted having used the "N-word" -- and soon after a transcript of her testimony emerged, the 66-year-old was fired from her job as a host on the Food Network.
"Our mother was under oath asked in a deposition to pour over her entire life and to admit whether or not she had ever heard or used this word and it broke her heart to have to answer truthfully and say, yes that she had," Bobby told CNN.
"But the important thing here is for people to know that that is not her heart… We were raised in a family with love and of faith and a house where God lived. Neither one of our parents ever taught us to be bigoted towards any other person for any reason and this is so saddening to me because our mother is one of the most compassionate, good hearted, empathetic people that you'd ever meet."