Recipe For Disaster? Paula Deen Backs Out Of 'TODAY' Appearance At Last Minute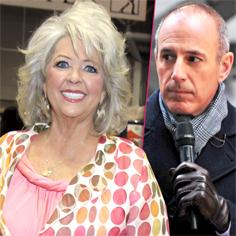 Perhaps thinking a national, no-holds-barred interview amidst a growing scandal could only hurt matters, celeb chef Paula Deen abruptly canceled her TODAY show appearance Friday, with her rep claiming she was "exhausted."
Host Matt Lauer told the audience, "We had planned to have an exclusive live interview with Paula Deen this morning. We spoke several times with her people yesterday and then I spoke with Paula yesterday afternoon.
Article continues below advertisement
Lauer said he and Deen "agreed there would be no restrictions to that interview, only that it would be an open and candid exchange.
"We started to hear from her people that she is exhausted. She has not called us at all," Lauer continued. "Her publicity person and I spoke a little while ago. Simply said they believe she is in the hotel but she has not confirmed anything other than she is not here."
Weatherman Al Roker put subtle pressure on the cook to tackle the controversy head on.
"We would consider her a friend," Roker said, adding, We would hope that she'll reconsider because she really needs to address this."
As we previously reported, Deen admitted to using racial slurs and jokes as part of an ongoing lawsuit she's immersed in.
Watch the video on RadarOnline.com
Deen's organization Paula Deen Enterprises addressed the scandal in a statement Thursday, saying that, "during a deposition where she swore to tell the truth, Ms. Deen recounted having used a racial epithet in the past, speaking largely about a time in American history which was quite different than today.
"To be clear Ms. Deen does not find acceptable the use of this term under any circumstance by anyone nor condone any form of racism or discrimination."
Visit NBCNews.com for breaking news, world news, and news about the economy