Paula Deen Versus Sex Accuser's Lawyer -- The Full Tweets Revealed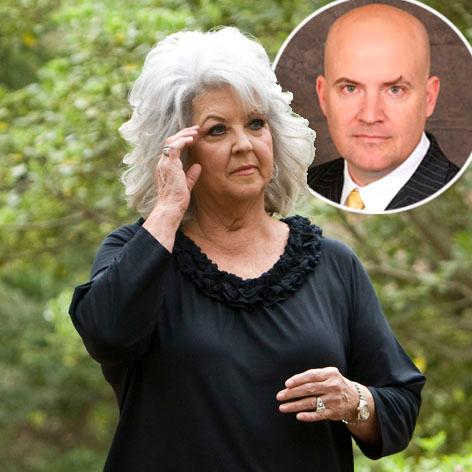 RadarOnline.com has obtained the full Twitter exchange between the lawyer representing Paula Deen's accuser and a pal which prompted the celebrity chef to try and have him disqualified from the case.
As we first revealed, a sideshow erupted in the $1.2 million sexual harassment suit when Atlanta-based lawyer Matthew Billips commented to his followers that he was engaged in the "good fight" against "evil sexism and racism" by Deen and her brother, Earl 'Bubba' Hiers, the chef and co-owner of Uncle Bubba's Oyster House in Savannah, Ga.
Article continues below advertisement
Billips has since deleted the account and the supposed tweets about wanting to "do" and "undress" the Emmy Award-winning television host.
But the full transcript reveals the lawyer mentioned the phrases "metaphorically".
Here it is:
"How r u doing -- I like your new avatar," a friend wrote to Billips on February 27.
"I've been doing Paula Deen, in a strong metaphorical sense."
To which the pal responded, "Why would you do Paula Deen? Aren't you affair of fat cooties?"
"Strongly metaphorical. I'm representing Lisa Jackson, who is suing her and her brother Bubba for harassment," Billips wrote.
"I don't understand a 'metaphorical lawsuit,'" the friend probed further.
The attorney responded, "The lawsuit is real. It is the doing Paula which is metaphorical."
"You dress up as Paula Deen? I can see the resemblance," the friend wrote again.
To which Billips said: "No. I plan on undressing her. Metaphorically."
Article continues below advertisement
Deen and her codefendants had asked a judge to axe Billips from representing Lisa Jackson, the former general manager of Deen's restaurant, who has claimed Bubba sexually harassed her for five years, frequently used the the word "n*gger", referred to President Obama as a "n*gger" and watched pornography on work computers.
But U.S. Magistrate Judge G.R Smith rejected Deen's bid... not before Billips told court, according to a transcript obtained by Radar: "Your Honor, I am thoroughly embarrassed to be standing here under these circumstances, I want there to be no mistake about that."
The judge noted that Deen's motion against the attorney did enough damage in itself.
"Their motion in fact did embarrass Billips with tweets he later claimed he never expected would surface here," the judge wrote in a ruling on May 8.
A source close to the case told RadarOnline.com: "This was just a legal tactic to try and discredit Jackson's lawyer. The full transcript shows that the tweets as represented by Deen and her codefendants were exaggerated and taken out of context."