Embarrassing! Lawyer Suing Paula Dean Said He Would 'Undress' & 'Do' Her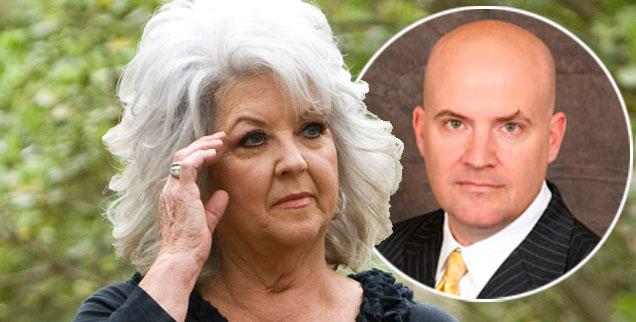 How's this for irony: The lawyer for the woman suing Paula Deen and her brother for SEXUAL HARASSMENT tweeted that he planned on "doing" and "undressing" the celebrity chef!
Matthew Billips posted on Twitter a series of staggering comments about Deen, 66, prompting the Emmy Award-winning television host to ask a judge to disqualify him from representing her accuser, Lisa Jackson.
Billips "commented to his limited number of Twitter followers that he was engaged in the 'good fight' against 'evil sexism and racism' by Paula Deen and her brother," according to documents filed in the court case and obtained exclusively by RadarOnline.com.
Article continues below advertisement
He also wrote on social media that Deen had herself engaged in "racist behavior toward employees" and that he "planned on 'doing' and 'undressing' her Deen during discovery and that suing her was a 'real hoot'."
So furious was Deen at the comments, she filed a motion to have the court ban Billips -- claiming the attorney frequently used "obscene, bawdy and racially charged language" on the Twitter account which has since deleted.
However, U.S. Magistrate Judge G.R Smith denied the claim but did seal some of the comments pending further consideration.
The judge sealed all missives that did not relate to the case, however.
"The court is satisfied that those tweets were filed simply to embarrass Billips and for no other purpose," Judge Smith wrote in his ruling on May 8.
Jackson, the former manager at Uncle Bubba's Seafood and Oyster House in Savannah, Ga., sued Deen and her brother for $1.2 million in 2012, claiming that Earl "Bubba' Hiers sexually harassed her for five years, frequently used the the word "n*gger", referred to President Obama as a "n*gger" and watched pornography on work computers.
Article continues below advertisement
In a deposition in the case, as RadarOnline.com reported, Deen admitted under oath also using the N-word but denied she was racist.
in the May 17 deposition, Deen replied "Yes, of course," when asked if she used the N-word.
Deen also reportedly admitted telling racist jokes, explaining: "It's just what they are -- they're jokes...most jokes are about Jewish people, rednecks, black folks...I can't determine what offends another person."
In a statement after details of the deposition were released, a spokesperson for the television star said "contrary to media reports, Ms. Deen does not condone or find the use of racial epithets acceptable. She is looking forward to her day in court."