Judge Finds Paula Deen In Contempt For Not Turning Over Profane Blooper Reel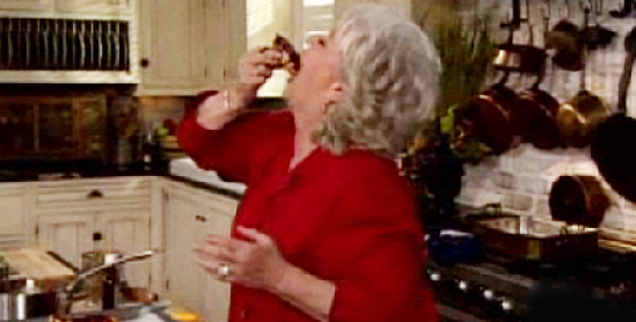 A Georgia judge has found Paula Deen and her codefendants in a $1.2 million sexual harassment lawsuit in contempt of court for failing to turn over a blooper reel in which the Food Network star is said to cuss up a storm -- and perform a sex act on a chocolate eclair!
The woman suing the queen of Southern cuisine asked the court to rule that she violated an order to turn over a tape of "obscene and vulgar video outtakes," according to documents filed in a Savannah, Ga., court and obtained exclusively by RadarOnline.com.
Article continues below advertisement
That video -- which consists of outtakes from her show -- is said to include the 66-year-old dropping the swear word "motherf**kers", declaring a dish smells like a "stinky coochie" and suggestively describing one gooey meal as "just a syrup that's gonna stick our balls together."
She even pretends to perform a fellatio act on a pastry before declaring, "My a** ain't pretty no more!"
Deen had previously appealed the court's decision and wouldn't produce the naughty tape until her appeal was heard.
But U.S. Magistrate Judge G.R Smith ordered the celebrity chef and her codefendants on May 8 to "promptly deliver a copy of the blooper reel to plaintiff's counsel, who are entrusted with its confidentiality."
They have since complied, a source told RadarOnline.com, but not until after being found in contempt.
Lisa Jackson, a former manager at Uncle Bubba's Oyster House in Savannah, Ga., wants to use the blooper reel as part of her litigation, during depositions and at trial.
Article continues below advertisement
But the judge warned her and her lawyer that they were "directed to return and destroy any copy left in their possession after the conclusion of appeals" in the case.
Jackson's lawyer Matthew Billips had argued he "repeatedly requested Defendants to produce the instant video, including advising them that a Motion for Contempt would be filed if not produced by Monday, May 6, 2013.
"Defendants simply ignored those requests, often not even responding.
"As such, there can be no conclusion that can be reached other than the Defendants are in willful Contempt," he successfully pleaded to the court.
"A party or its counsel who blithely disregards an Order to produce evidence does so at its own risk. Defendants have been Ordered to produce the Blooper Reel video and have no excuse for refusing to do so."
Jackson is suing Deen and her brother Earl 'Bubba' Hiers for $1.2 million, claiming he sexually harassed her for five years, frequently used the the word "n*gger", referred to President Obama as a "n*gger" and watched pornography on work computers.