Exclusive
'Most Jokes Are About Jewish People, Black Folks': Inside Paula Deen's World -- Read Her Stunning Deposition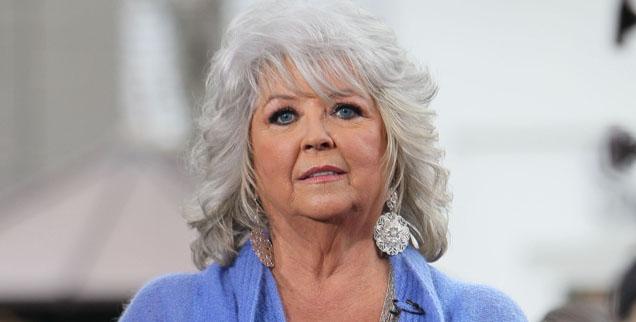 Paula Deen's world is peppered with jokes about black people, gays and Jews and filled with men who view pornography openly, she admits in a stunning 145-page deposition obtained exclusively by RadarOnline.
In the videotaped deposition Deen divulged that she has used the 'n' word, a story reported by RadarOnline.com on Wednesday. And her lawyers quickly issued a statement that the celebrity chef does not condone "or find the use of racial epithets acceptable."
Article continues below advertisement
But a deeper look into Deen's world shows troubling behavior by many close to her although throughout three hours of questioning during the May 17 deposition she insisted she cares only about what is in a person's heart.
EXCLUSIVE DOCUMENT: Read Paula Deen's Depostion
The deposition is part of a lawsuit filed against her by Lisa Jackson, former general manager of one of Deen's restaurants.
Many accusations are made against Paula's brother and business partner Bubba Hiers. He allegedly openly viewed pornography in the workplace and made racial slurs.
"Does his sense of humor include telling jokes about matters of a sexual nature," Deen was asked under oath.
"We have all told off-colored jokes," she replied. And when pressed if he tells jokes of a racial nature she answered: "I'm sure those jokes have been told.
"Every man I've ever come in contact has one." But Deen then denied that she has ever told racial jokes.
When Deen was asked about men viewing pornography in her workplace she acknowledged it was likely in certain circumstances.
Article continues below advertisement
"It's just men being men" she said, explaining that men often show each other things of a sexual nature (videos, etc.) on their phones in the workplace.
She seemed to talk in circles when questioned about jokes that targeted minorities, jokes told openly in front of her and allegedly in the workplace.
"Most jokes are about Jewish people, rednecks, black folks," she testified. "Most jokes target – I don't know. I didn't make up the jokes, I don't know. I can't. I don't know.
"They usually target though a group. Gays or straights, black, redneck, you know, I just don't know I just don't know what to say.
"I can't myself determine what offends another person."
She also said while she would not necessarily be offended by a joke using the 'n' word if her husband told it, she would not do the same.
"That's not my style of joke," she said simply.
After admitting that she has used the 'n' word she tried to explain the context.
Article continues below advertisement
"Maybe in repeating something that was said to me…probably a conversation between blacks. I don't know," she said.
"But that's just not a word that we use as time has gone on. Things have chanced since the 60s in the south. And my children and my brother object to that word being used in any cruel or mean behavior."
Later the lawyer asked for an example of a way she used the racial slur not in a cruel or mean way, as she stated. Deen answered: "We hear a lot of things in the kitchen. Things that they – that black people will say to each other. If we are relaying something that was said, a problem that we're discussing that's not said in a mean way."
The plaintiff's lawyer brought up a previous incident where the general manager of one of Deen's restaurants called an employee "a monkey."
"I'm aware of that accusation," Deen said. "I was never given a tape or any proof of what exactly was said…but my words…was we're not going to tolerate name calling and so handle it. Write him up. Do something."
And the Food Network star also was questioned about a former management-level employee allegedly having a sexual relationship with an underage employee.
Article continues below advertisement
She didn't mince words. Reading her own comments from a previous report she said: "If you think I've worked this hard to lose everything because of a piece of pu**y, you better think again."
Deen added: "That young man's sexual control was out of control and no way was I putting our business in that kind of jeopardy."
She was also asked about her brother allegedly telling a female employee who recently got dentures, "I'll bet your husband is going to like that."
Deen was unfazed and answered: "I can image several men in my life that would have said something similar."
While the deposition offers a rare and detailed glimpse into the world in which Deen operates she defended herself and her brother Bubba eloquently at one point as the questions about racism and sexism were being asked.
"Bubba and I, neither one of us care what the color of your skin is or what is between your legs, it's what's in your heart and in your head that matters to us," Deen said.