Exclusive
Another Deen Racism Scandal? Paula's Son Jamie Posts Jokey Tweet Featuring Black Employee — Critic Calls Slur 'Worse Than The N-Word'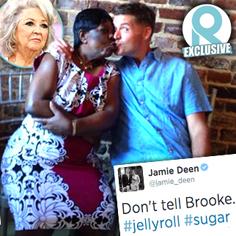 Like mother, like son? Paula Deen has rebounded from her own racism scandal with a new network and business deals continuing to roll in. But as reports swirl that her son Jamie Deen's own Food Network show has been cancelled, RadarOnline.com has learned that he's been caught engaging in his own questionable behavior, which one fan calls "worse than the N-word!'
On june 13, Jamie posted a pic of himself smooching an older African-American woman, captioning the pic "Don't tell my wife Brooke. #jellyroll #sugar"
Article continues below advertisement
The woman in the photo, Ineata "Jellyroll" Jones, has been at the center of accusations of racism surrounding the family.
In 2013, The Columbus Dispatch claimed, "Deen used Jones for restaurant theater. At 11 a.m., when the doors opened at her restaurant Lady & Sons, she stood in front and rang an iron dinner bell." Jones was also tasked with making hoecakes at an open kitchen station in view of customers, and according to the paper, "Deen wanted Jones to dress in an old-style Aunt Jemima outfit."
While Deen denied the accusation, former employee Dora Charles said, "Jellyroll didn't want to hear that. She didn't want to do that."
Jones has said she only has positive things to say about her employment with Deen.
But still, others have found fault with the family's supposedly loving nickname for the cook.
With ties to black jazz artist "Jelly Roll" Morton and African America slang for female genitalia, "Jelly Roll" has come under fire from Deen critics for its racist connotations.
Article continues below advertisement
"Wow, did Paula Deen really call one of her workers JellyRoll?" LaVerne Mack (@shaigirl11) wrote on Twitter. "I find that more offensive than the N-word."
Tyler Richardson (@Ty1erRichardson) wrote, "Paula Deen employeed a woman named Ineata "Jellyroll" Jones. She has some sense of humor."
The questionable tweet comes amid new reports from the New York Post that Jamie's Food Network show, Home For Dinner with Jamie Deen has not been renewed for a third season.
Do you think the nickname and Deen's post are offensive? Let us know in the comments!