Exclusive
Hazardous Chemicals, Accidental Stabbings, Raging Fires & Toxic Fumes That KILLED: Inside The Dangerous Factories Making Products For TV Chef Paula Deen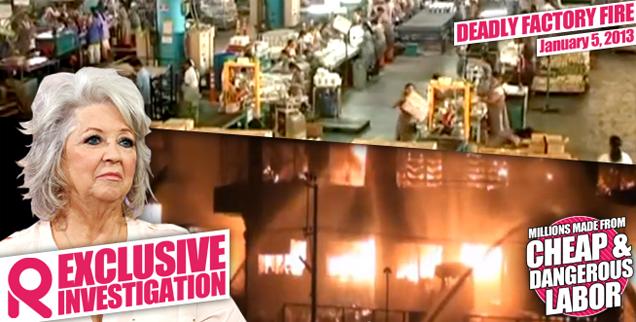 TV chef Paula Deen came from nothing to build a multi-million-dollar empire that netted her $17 million last year. But that success has come at a price: Deen has been accused of systematically partnering with cheap companies that prioritize profit over worker safety to manufacture her lifestyle products.
Sudden deaths on the factory floor, salaries as low as $75 per month, life-threatening injuries and raging fires caused by failure to comply with safety standards -- In an exhaustive investigation, RadarOnline.com has uncovered Deen's extensive history of partnering with companies that can make her rich, no matter the cost to their workers.
Article continues below advertisement
And as Deen prepares to open a Paula Deen Foods store in Buffalo, N.Y. this February, consumers might want to be wary of purchasing her products, whatever their opinion on her alleged racism.
In one instance, RadarOnline.com discovered that Paula Deen candles were produced by the Primacy Industries factory in Mangalore, India from 2009 to at least 2011, according to U.S. Customs records and company documents. Workers there have claimed to get by on just $75 per month, with one employee telling The Hindu newspaper that after seven years working there, he received a raise of just $8 per month.
While those terms certainly could make life uncomfortable for workers trying to support a family, the truly life-threatening conditions at that factory were exposed earlier this year when it was gutted in a raging fire that endangered the lives of hundreds -- and was reportedly caused by unsafe conditions.
K.G. Nanjappa, the Deputy Director of Industries (Safety Department) for the area, blamed the incident on a lack of adherence to safety standards. "Every industry must have fire extinguishing equipment, fire detection systems, alarm systems to notify security control room, etc.," he told the Coastal Digest newspaper.
Article continues below advertisement
"The alarm system was not connected to the security room," and the factory had not obtained a certificate of compliance from the Fire Services. A company official claimed that the factory was built before current safety standards were implemented, so their subsequent application for a certificate was denied.
Watch video of the out-of-control fire that resulted, below:
youtube=https://www.youtube.com/watch?v=NMgxmB8-pZI&w=420&h=315
Also in India, glass containers for Paula Deen candles were manufactured at the Hind Glass Industries factory in Firozabad, an area where "child labor is rampant," according to News One India. The town is home to a "Child Labour Market," which, the news organization claims, allows factory owners to "hire the children a la the Roman slave market of yore." There is no concrete evidence that Hind Glass Industries utilized the market, but Meenakshi Ganguly of Human Rights Watch in Calcutta tells RadarOnline.com that labor conditions in India leave much to be desired.
Article continues below advertisement
"While many Indian factories have committed to safety norms for workers, there is not enough supervision to ensure that safety measures are in place," Ganguly says. "This is particularly the case for worker conditions in the unorganized sector of the supply chain. While companies might inspect the main suppliers, they do not inspect work factories used as sub-contractors."
And although children are legally prohibited from "hazardous work" that includes glass factories, Ganguly says, "The regulations are not always properly implemented."
Hind Glass certainly has a history of not following regulations. In 2005, they reported zero earnings to the tax authorities, and were subsequently drawn into years of legal turmoil with the government, according to court records obtained by RadarOnline.com. The case was not settled until after 2010, one year after Deen used the factory to produce glass jars for candles, according to U.S. Customs documents.
DOCUMENTS: Paula Deen Sex & Discrimination Lawsuit Dismissed — See The Docs!
Article continues below advertisement
But not all of the factories Deen partnered with were so far afield. In 2006, she happily signed on to act as a spokesperson for Smithfield food products, despite the fact that the company had been the target of an extremely critical, well-publicized report from Human Rights Watch just 18 months before.
HRW's January 2005 report on "abuses against workers" in the U.S. meat and poultry industry, obtained by RadarOnline.com, found a number of disturbing issues at Smithfield's Tar Heel, North Carolina, plant.
On November 20, 2003, investigators found, 25-year-old employee Glen Birdsong died, overcome by highly toxic sodium bisulfate fumes inside a tank where he was working. Employers "didn't tell him about the dangers -- and they didn't give him a safety belt to get pulled out of there in case he fell in," coworkers said.
Indeed, on March 10, 2004, the North Carolina Division of Safety and Health cited Smithfield for the "serious" violation of failing to "inform exposed employees by posting danger signs" at the tanker Birdsong died in. Smithfield later paid a fine f less than $4,000.
Article continues below advertisement
Injuries are reportedly common, with the combination of a fast-paced line and dozens of knives resulting in many co-workers stabbing themselves and others. One employee told HRW, "The line is so fast that there is no time to sharpen the knife. The knife gets dull and you have to cut harder. That's when it really starts to hurt, and that's when you cut yourself. I cut my hand at the end of my shift, around 10:30 at night. I went to the clinic the next day at 11 a.m. They gave to stitches and told me to come back at 2:30 before the start of my shift to check on the stitches. They told me to go back to work at 3:00. I never stopped working."
Another employee raised similar concerns. "I am sick at work with a cold and breathing problems, and my arms are always sore," they said. "I have red rashes on my arms and hands and the skin between my fingers is dry and cracked. I think I have an allergic reaction to the hogs. But I am afraid to say anything about this because I'm afraid they will fire me."
And sadly, employees claim, that's a valid fear. One worker said, "In 2002 I slipped on remnants on the floor. I hurt my back, my hips and my leg. My knee turned black and blue and was swollen. I could hardly walk. The company doctor told me I was OK and to go back to work. But I couldn't stand the pain. I went out on sick leave. The company fired me … They said they would take me back, but only as a new employee on probation with no benefits."
Article continues below advertisement
Those are just a few of the stories that HRW uncovered, stories that would not be remiss in Upton Sinclair's famous 1906 meat industry takedown, The Jungle. Outrage over that book led to widespread changes in U.S. industry and the creation of the FDA. But Human Rights Watch's report didn't stop Deen from signing on to be their spokesperson. In 2007, she insisted she had met with Smithfield employees and found that "Smithfield is a good company. The people are so happy to have jobs."
But complaints continued, and in May 2008, Susan Sarandon, Al Sharpton, the Rev. Jesse Jackson, and Community star Danny Glover joined forces to organize a protest at one of Paula's events in Atlanta, demanding she confront the company's alleged dark side.
Still, she continued to insist there was nothing wrong, and stayed on with the company throughout that turmoil up until they fired her over her "N-word" scandal on June 24, 2013. Two days later, USA Today presented a report on the continued "brutal" conditions at Smithfield, which allegedly leave workers with "herniated discs, replaced knees, countless wrist scars from surgery to correct carpal tunnel syndrome from repetitive movements."
Article continues below advertisement
These represent just a few of the dozens of factories that have produced Paula Deen merchandise in the United States and abroad over the years.
In China alone, RadarOnline.com has learned, more than 20 factories have shipped goods mean to be marketed under Deen's name to the U.S.
And while none of those factories have records of human rights violations, China Labor Watch Program Coordinator Kevin Slaten tells RadarOnline.com, "I'm sure that a lot of them are similar to factories we've investigated before."
Without naming Paula Deen's brand in particular, he continues, "Many big brands pick factories that offer the cheapest price. Prices are driven down and costs are usually paid for by the worker, whether it is illegally long hours, lack of safety, etc."
For example, China Labor Watch accused retail chain Dollar General of "gross violations of workers' rights" across their supply chain in China, including the "use of sweatshop labor" in many factories producing its merchandise in a 2010 report.
Article continues below advertisement
RadarOnline.com has learned that Paula Deen shares at least one Chinese manufacturer with Dollar General, although it is not named in that report. In 2010, a shipment of Paula Deen jar grips was sent to the U.S. from the Zhejiang Wangbin Decorative Material Co., which also works with Dollar General, according to the company's website.
In all, these incidents represent a disturbing lack of awareness and/or concern on Deen's part about the origin of the materials to which she so readily lends her name for a paycheck.
Deen's camp did not respond to a request for comment.
Stay tuned to RadarOnline.com for the latest on this unfolding story.