Exclusive
They're Not Giving Away Paula Deen Products Yet, But It's Getting Close!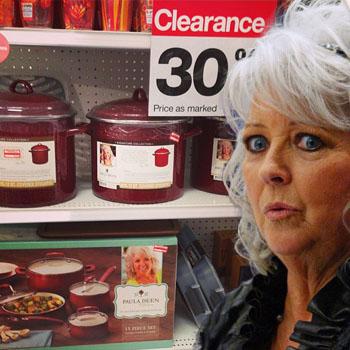 Things are going from bad to worse for Paula Deen.
Not only has she been fired from the Food Network and lost a lucrative upcoming cookbook deal in the wake of her N-word scandal, but the celebrity chef's line of cookware is being pushed off the shelves at Target.
Photos have been popping up all over the Internet showing price cuts, sales and clearance sales on all things Paula Deen.
This store even placed their sticker directly on her face!
Article continues below advertisement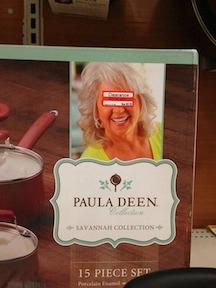 "Sale on everything Paula Deen in this empty corner of Target!!" one tweeter wrote. "Let's exploit this opportunity before she's forgiven!"
Another boasted, "Call me a bad person, but I totally just took advantage of Paula Deen items being on sale at @Target. #sorrynotsorry."
Most recently, Paula, 66, dumped her long-time agent and got a bit of happy news when a New York man was arrested for trying to extort the butter-loving chef for $250,000 in exchange for not going to the media with what he called "true and damning statements" she allegedly made.