Paula Deen Closes Georgia Restaurant At Center Of Racist N-Word Scandal -- Newly Unemployed Staff Is Angry!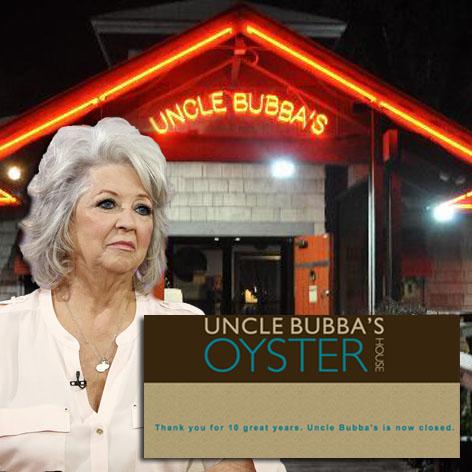 Article continues below advertisement
But the shocking close also comes as a surprise to the restaurant's employees, who found out they were now unemployed via a Facebook message posted on Thursday that read, "Thank you for 10 great years. Uncle Bubba's is now closed."
https://www.facebook.com/UncleBubbas/posts/718588951496732
One user named Jaime Linn Puckett left a comment on the Facebook message claiming both her mother and fiancé worked at Deen's restaurant and were not notified of the closing.
"My mother worked there for over 8 years and no one called her!!! My fiancé also worked there no one call him, in fact a UB manager called him LAST NIGHT to get his availability for next week!" she wrote.
"Its s shame how the employees of UB were treated!! I am now left to pick up double shifts at work to make ends meet and I'm six months pregnant. I hope Paula enjoys that 75 million she just signed on while all employees of UB are left frantically searching for a job."
Article continues below advertisement
The following is an official statement from Key Group, the PR and marketing company restaurant officials used on the closing of Uncle Bubba's Seafood & Oyster House:
"Since its opening in 2004, Uncle Bubba's Oyster House has been a destination for residents and tourists in Savannah, offering the region's freshest seafood and oysters. However, the restaurant's owner and operator, Bubba Heirs, has made the decision to close the restaurant in order to explore development options for the waterfront property on which the restaurant is located. At this point, no specific plans have been announced and a range of uses are under consideration in order realize the highest and best use for the property.
"The closing is effective today, Thursday, April 3, 2014. Employees will be provided with severance based on position and tenure with the restaurant. All effort will be made to find employees comparable employment with other Savannah restaurant organizations."
But it serves as no consolation to the staff, who are now jobless — or the many people who claim they just bought Groupons for the restaurant!
"I got a Groupon for Uncle Bubba's and I was going to use it next month," Peggy Combs Nichols wrote. "Oh dear."
And it seems the closing was extremely sudden as another user wrote, "Very odd. They just posted a new special 2 days ago. And 20 hours ago - a posting asking which soup is your favorite. Very odd and unexpected!"