Kim Discusses Mobile Game & Kardashian Lifestyle For Adweek Mag: 'We're A Normal Family'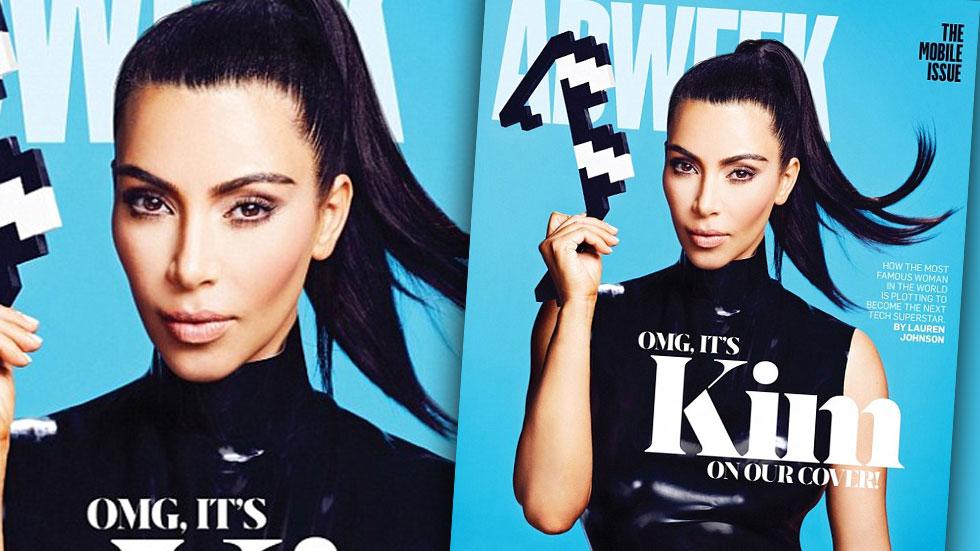 Kim Kardashian is making headlines everywhere!
On Sunday the successful socialite appeared on Adweek's latest cover to discuss her 'normal' family, hit mobile game, and the future of Keeping Up With The Kardashians.
The TV mogul was true-to-Kim-form for the cover, sporting a black latex dress that complimented her famous figure. Her thick locks were tied in business fashion, pulled back into a tight ponytail.
Article continues below advertisement
The magazine headline reads: "How the most famous woman in the world is plotting to become the next tech superstar."
The cover introduces Kim's widely popular mobile game "Kim Kardashian: Hollywood" which grossed more than $74 million last year.
https://instagram.com/p/zuu1yUuS5L/?modal=true
"We realized that it worked so well because we are in such good communication -- myself and the Glu Mobile team -- to make updates in real time," Kim commented on the success of the game.
"I try to tell them as far in advance of when I know I have a trip planned, and we try to get as many lifelike things that I'm actually doing to really happen in the game so you can play along with my real life."
https://instagram.com/p/zuvxJVuS6f/?modal=true
As for Keeping Up With The Kardashians, the reality star discussed the family empire's tenth season on E!:
"I hope they get out of it that we are a normal family," she said. "They may not think we're normal, but we are a family like everyone else's that goes through so many different things and we're always there to support each other."
Article continues below advertisement
The brunette beauty has made a name for herself on Twitter and Instagram in recent years – pulling in over 29 million and 27.2 million followers, respectively – and she plans to continue growing her audience.
"You never know," she said when asked if she'd always be active on social media. "I love sharing my world with people, so I don't see me just having a freak-out and just stopping."
"Will I do it forever? I'm not sure. But I love the whole idea of it, especially because you get to share things your way. You get to tell your own story through your eyes."
There you have it, Kim is certainly more than a pretty face!