Tori Spelling Freaks Out When Husband Dean McDermott Tries To Hire Female Rehab Friend To Babysit Their Kids: 'He Has HER Come Over?"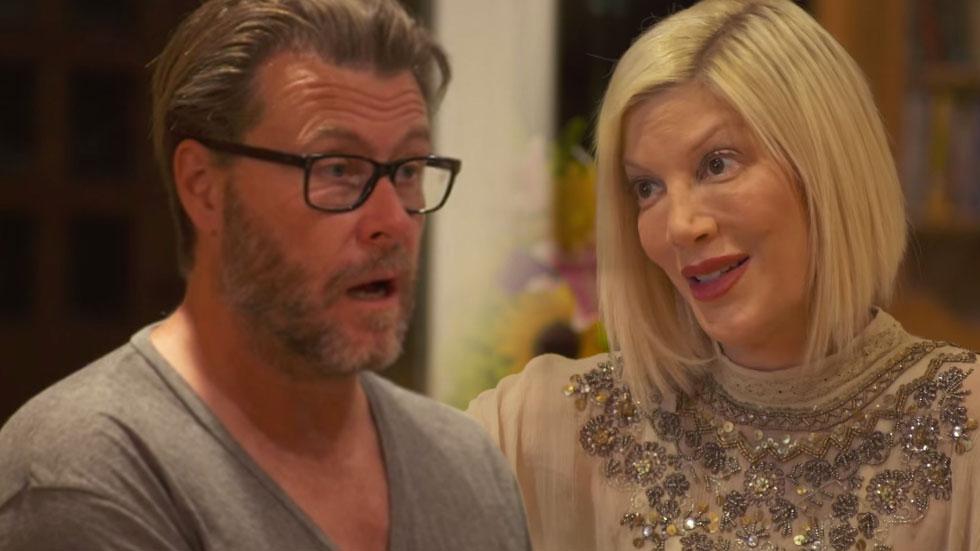 Tori Spelling had a meltdown after husband Dean McDermott tried to hire a female friend from rehab to babysit their kids behind the star's back.
On Tuesday night's episode of True Tori on Lifetime, viewers saw Spelling reluctantly take a day trip with friends, leaving McDermott alone with their four children.
And her fears about leaving him in charge were justified when the couple's regular babysitter texted Spelling that McDermott was interviewing an inappropriate person to be her backup.
Article continues below advertisement
"What friend of yours came over today?" asked a suspicious Spelling, who has struggled with the aftermath of McDermott's cheating for months.
Although the woman's name wasn't disclosed on the show, McDermott insisted because time was short, they had no other option but to hire his rehab pal.
"I said 'No' to hiring her twice," Spelling snapped at him.
After the tense phone call, Spelling explained to her friends that McDermott had been trying to get the woman a job for months and, "I don't feel comfortable with that."
Article continues below advertisement
Then Spelling confronted Dean via text how she felt.
Viewers weren't allowed to see their texts, but McDermott moaned to a producer, "She's all bent out of shape."
Spelling complained to her pals about the woman from rehab, "I see them text all the time … it's not okay to have girlfriends now."
Back at home, her husband shouted to producers, "I'm done! Every time I try to step up, it's the wrong way, because it's not her way."
Spelling told her friends, "The one day I go out of town … he has HER come over? Come on!"
Later, at an antique store the group visited, Spelling said, "I don't even know what I'm going home to," and threatened to move into the Four Seasons hotel. But she returned home as the episode ended.
Also on the episode, as RadarOnline.com previously reported, Spelling had a disastrous 3rd birthday party for their daughter Hattie in which both McDermott's ex-wife, Mary Jo Eustace, and Spelling's mother Candy showed up.
Article continues below advertisement
"We see each other when it's appropriate for the children and they come into play. I don't want them to not see their grandmother. She's a part of their lives but at the same time, we don't have this relationship where we actively work on anything. We just push it aside, both of us, and there's always an awkwardness."
While dressed up as a butterfly for the party at her house, Spelling felt a migraine coming on and things got worse as Candy arrived with her actress pal, Tatum O'Neal.
Article continues below advertisement
Spelling also was bugged by Eustace chatting with Candy -- and warned McDermott's ex-wife about her mother.
At a one-on-one session with her therapist Dr. Ann Wexler, Spelling talked about seeing Candy and said friends had told her "she's never going to meet your expectations of what a mother should be."
Spelling sobbed to Dr. Wexler that she hugged her daughters because she never got that from Candy: "I want them to feel so loved."
And because of the poor relationship with her mom, Spelling revealed that she had been scared to even give birth to daughters.
True Tori airs Tuesdays on Lifetime at 9/8c.