Tori Spelling Decides To Have Rock-Hard, 'Expired' Breast Implants Removed, As Marriage To Dean McDermott Continues Downward Spiral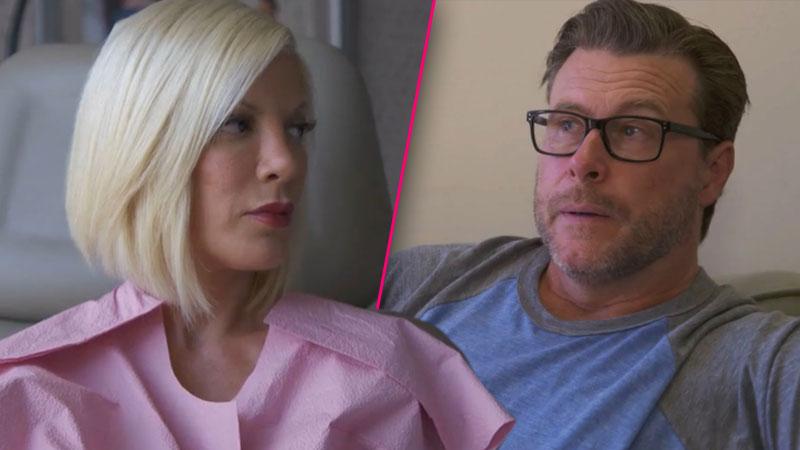 As Tori Spelling feared being left with pancake-flat boobs if she had her unhealthy breast implants removed, her failing marriage to Dean McDermott ran into even more trouble on Tuesday night's episode of True Tori, as the couple continued to battle over control issues.
During a couples' therapy session with McDermott and Dr. Ann Wexler, Spelling admitted she was overdue in getting her breast implants replaced.
Article continues below advertisement
Spelling and McDermott told Dr. Wexler that her fake boobs had been recalled a year after she got them, but she left them in.
"For 15 years you have not gotten them taken out?" a shocked Dr. Wexler asked.
"My boobs are expired and recalled," Spelling said. "It's so embarrassing."
Viewers of the Lifetime reality show later saw the former Beverly Hills 90210 star telling her friend Courtney how she regretted getting the boob job in her early 20s.
Spelling, now 41, thought a lot of clothes would look better on her without her huge, surgically-augmented breasts, and said, "If I had it to do over, I wouldn't."
As both women copped a feel, Spelling compared her breasts to rocks.
"I feel nothing — I want to stick a knife in there and cut them out myself," she said.
During a consultation, plastic surgeon Dr. Ashkan Ghavami told Spelling, who said she'd had two breast augmentations, that she was suffering a hardening of the implants.
Article continues below advertisement
"It's almost as bad as it can be, your scar tissue," Dr. Ghavami warned. "I wouldn't be surprised if you had a micro-rupture."
He gave Spelling two options: To take them out, put in smaller implants right away, then do a lift later; or, to take them out altogether and let her body rest a few months, then do another augmentation in the future.
The star was scared when the doctor admitted her breasts would look "pancakey" if she got them removed for awhile.
Later, Spelling told McDermott she could take a "boob vacation."
"How do you feel about me having flat flaps?" she asked.
McDermott was fine with it, saying, "Your body needs a break."
He said he would love her "pancake t*tties because I love you and I want you to be healthy."
A beaming Spelling told the cameras that's when she realized that she still loved him!
Although they bonded briefly over boobs, the episode was also full of conflict for the two who are still dealing with the aftermath of McDermott's cheating scandal.
Article continues below advertisement
Tired of doing train wreck reality TV, McDermott was thrilled when he landed a CSI guest spot and crowed, "I'm an actor, damnit."
But in couples' therapy, his more successful spouse said she felt responsible for the whole family.
In addition to putting off breast surgery, Spelling had delayed an operation after suffering internal damage during their last child Finn's birth.
McDermott wished she'd take some time off, but Spelling pointed out, "How do we pay the bills?"
He was devastated that Spelling was always implying "it's me … I'm not pulling my weight."
Dr. Wexler suggested Spelling give him a chance, particularly when it came to taking care of their four
kids.
Spelling said he knew how to keep the children alive but he didn't give them enough emotionally.
"You make it sound like you're Mother Teresa, like you just handle everything and I do f*ck all!" McDermott shouted. "I'm coming out looking like the a**hole. What are you doing that's so much better than I am?"
Article continues below advertisement
Article continues below advertisement
"I'm tired of Tori not having confidence in me taking care of the kids," he whined.
When their friends Jess and her hubby Wolf visited, they all urged Spelling to go away for awhile and she said she was having a panic attack about the very thought of leaving the children.
Spelling shared an example of why that was a bad idea, asking her husband why he hadn't picked up the kids from school and instead let the babysitter do it.
At that, McDermott exploded, "You're looking to find something I did wrong.
"I'm a lazy f*ck! I didn't pick up my own kids!"
McDermott stormed outside with Wolf, complaining that Spelling was always looking for him to slip up.
As the episode ended, McDermott tore off his mic and told Spelling he was done with the show for the day.
True Tori airs Tuesdays on Lifetime at 9/8c.