So Young, So Plastic: 22 Stars Who Have Had Plastic Surgery Before Age 25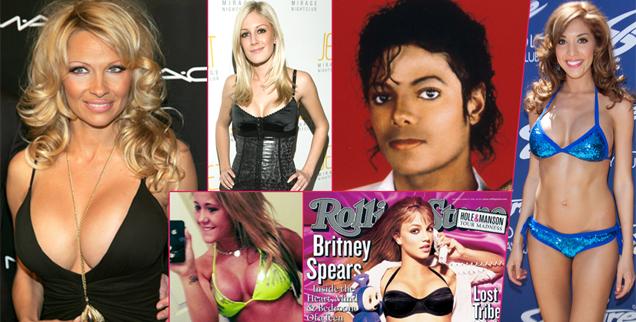 In Hollywood, appearances rule and you're never too young to have plastic surgery. Check out these celebs who didn't wait until age 25 to go under the knife...
Article continues below advertisement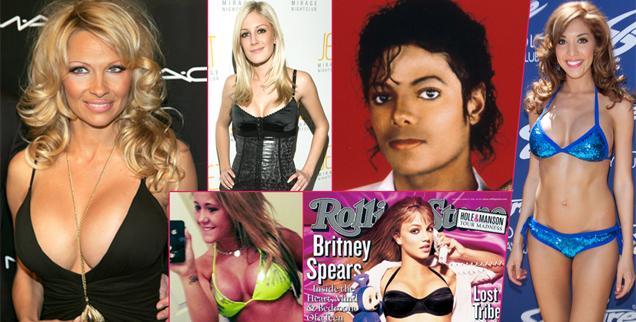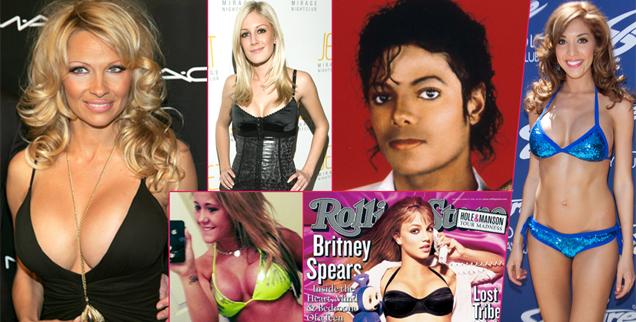 Dianna Agron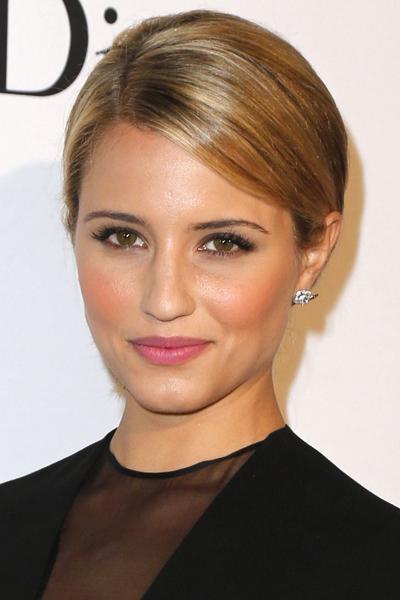 Dianna Agron: When she was age 25 in 2011, the Glee beauty admitted to David Letterman she'd already had surgery done on her nose after getting it broken twice, once while she was in high school and the second time while on tour with Glee. A doctor told her she had a deviated septum due to the incidents. "It's fixed now," Dianna told Dave.
Article continues below advertisement
Jennifer Aniston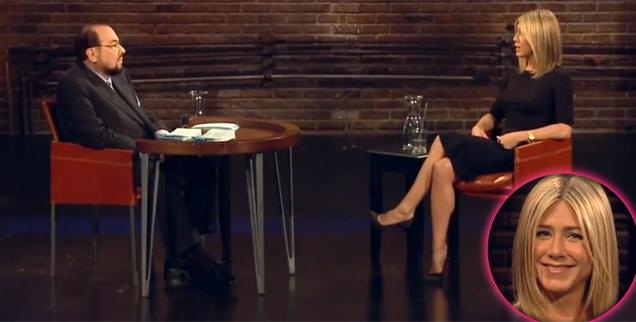 Jennifer Aniston: The Friends star appeared on Inside the Actor's Studio and acknowledged she broke her nose when she was a teenager after a baseball hit her in the face. Jen slyly then admitted plastic surgery to host James Lipton by simply admitting that her nose wasn't broken anymore!
Article continues below advertisement
Jenelle Evans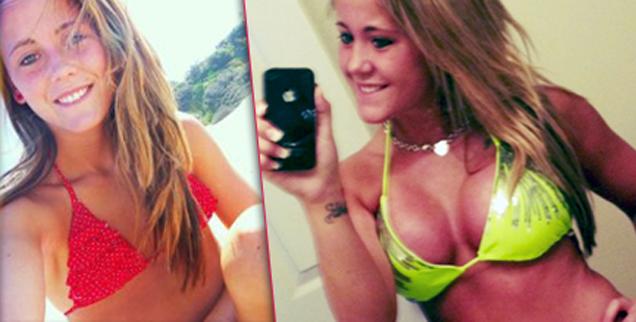 Jenelle Evans: The Teen Mom 2 star, who is in a heap of legal trouble, got a boob job last spring when she was just 20 years old. Jenelle happily tweeted "was a B is now a full C" and showed off her new look in a pink Victoria's Secret bikini. But the reality star who's discussed her body issues on the show also insisted via Twitter that she "wouldn't do any other kind of form of plastic surgery."
Article continues below advertisement
Kourtney Kardashian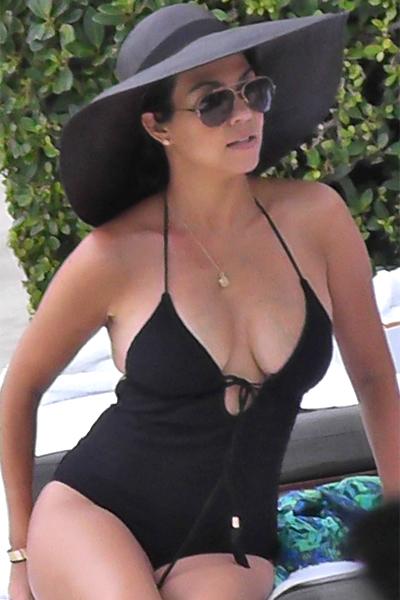 Kourtney Kardashian: When she was 22, the oldest Kardashian sister got breast surgery to go from a B-cup to a C-cup. "It was so dumb... I just got the idea in my head one day, and that was that. There was no talking me out of it," Kourtney told US Weekly.
Article continues below advertisement
Courtney Stodden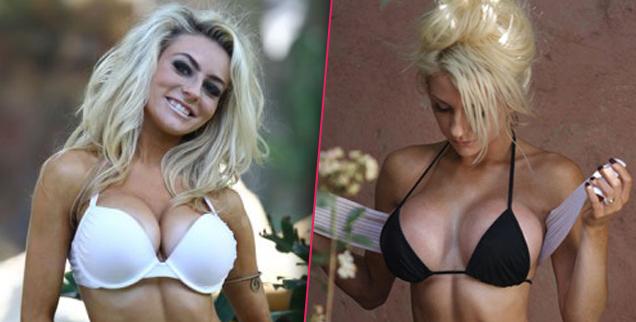 Courtney Stodden: Courtney, 18, had a breast augmentation in June that took her from a C-cup to eye popping double Ds! The starlet, whose previous claim to fame was marrying actor Doug Hutchison in 2011 when she was 16 and he was 51 (they appeared on VH1's Couples Therapy) even posted a video online documenting her plastic surgery. The short film ends with Stodden's bandages being taken off, as she, her husband, and her doctor examine her new rack!
Article continues below advertisement
Jenny McCarthy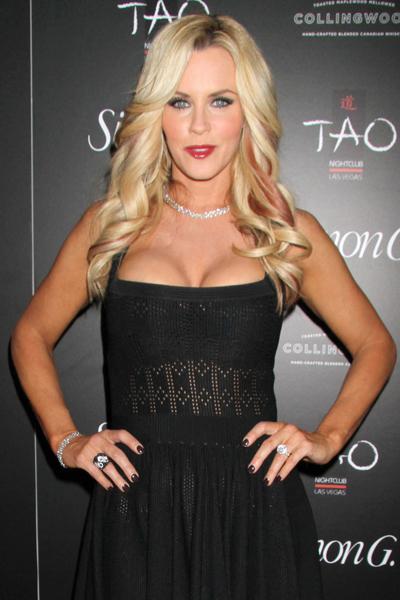 Jenny McCarthy: The new View hostess and former playmate has said she was "too young" when she got her breast implants at 19. "Me and my friends found a doctor in Arizona that cost about $1,500 to get our boobs done--because they didn't use anesthesia and I didn't know it," Jenny told WENN.
Article continues below advertisement
Adrianne Curry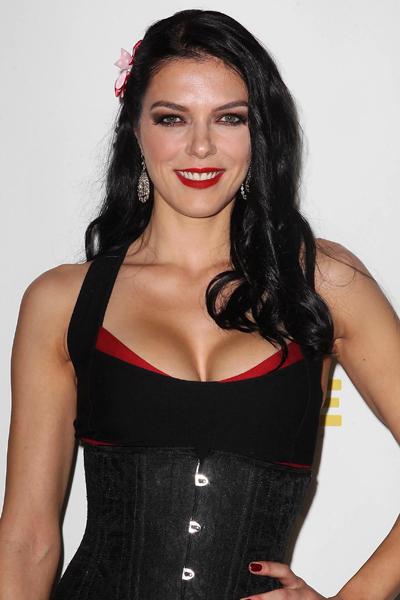 Adrianne Curry: When the America's Next Top Model winner was 24 in November 2006, Adrianne got surgery to fix what she called embarrassingly assymetrical breasts. The model, who also starred on My Fair Brady with her husband, Brady Bunch actor Christopher Knight, revealed that after a miscarriage, one of her breasts grew larger than the other, causing a two inch difference in size. She said implants eliminated the problem.
Article continues below advertisement
Kimberly Stewart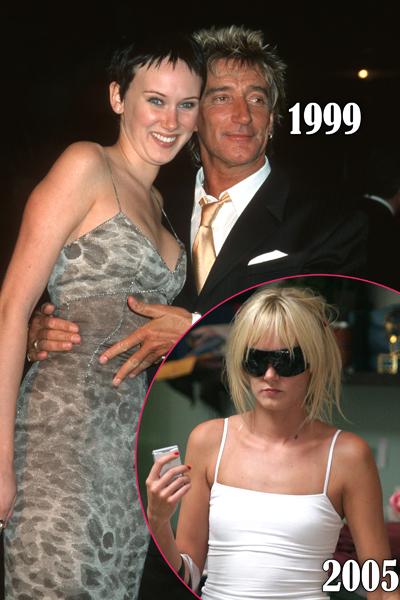 Kimberly Stewart: In an interview with Now Magazine, Kimberly said her famous father, Rod Stewart, was supportive of her when she had breast implants put in at 18--and even more supportive when she decided to have them removed in 2005. The reality star signed and framed her silicone implants for friend Jack Osbourne as a joke!
Article continues below advertisement
Denise Richards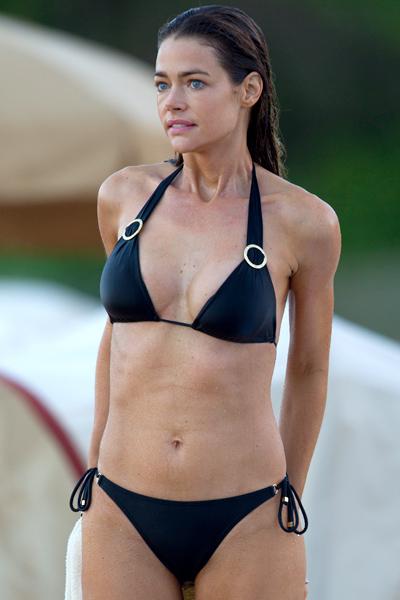 Denise Richards: Charlie Sheen's ex told US Weekly about her bad experience with a youthful breast augmentation. "When I was 19, a doctor put in bigger implants than what I asked for. I was in such a hurry to get them that I didn't research my doctor," she sighed. "I just thought because they're a plastic surgeon, they must be good." She's also said, "At 19 when I first got my breasts done, I wish that I was confident enough with my body to not have had surgery."
Article continues below advertisement
Pamela Anderson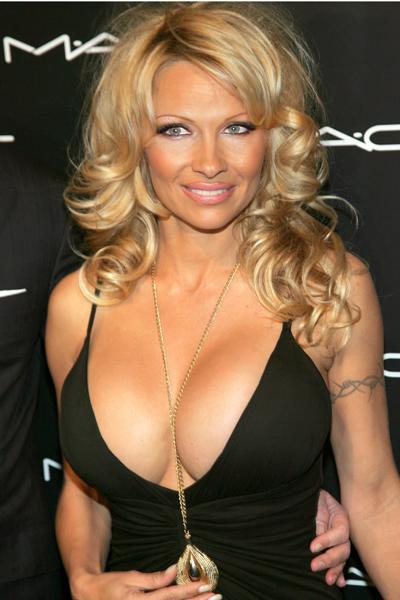 Pamela Anderson: The Baywatch babe famous for her big breasts first made them bigger in 1989 at age 22. She has admitted to having several enlargement and reduction surgeries over the years. Her biggest boobs so far have been 36DD.
Article continues below advertisement
Heidi Montag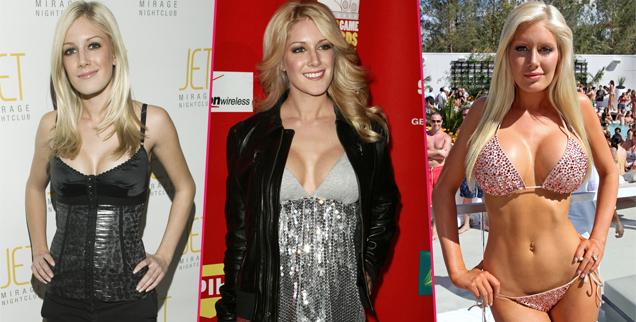 Heidi Montag: The Hills star is the poster child for young Hollywood plastic surgery gone bad. In 2010, at the tender age of 23, Heidi shocked the world when she was featured on the cover of People magazine after having had ten plastic surgery procedures, including breast implants, liposuction on her stomach and thighs, a brow lift and a nose revision. Recently, she said, "I lived and I learned -- and I wouldn't really recommend it for other people."
Article continues below advertisement
Ashlee Simpson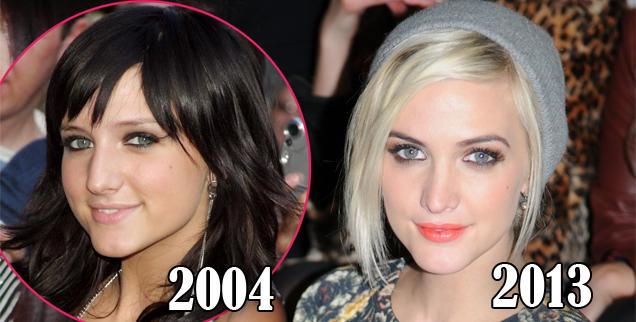 Ashlee Simpson: The singer first denied she'd had a nose job in 2006, when she was 22, but finally confessed to undergoing rhinoplasty surgery to remove a small bump. Ashlee told US Weekly, "I was never really unhappy with how I looked, (and) I don't think I am more beautiful than I was (before). I just see the same old goofy girl I see every day."
Article continues below advertisement
Michael Jackson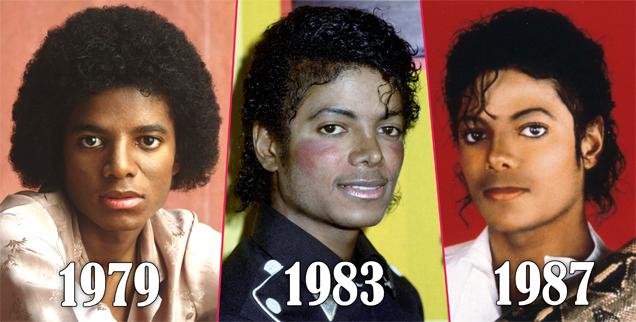 Michael Jackson: The late king of pop symbolized celebrity plastic surgery for years, and he got started early, at age 21! According to Jackson's biographer, J. Randy Taraborrelli, Jackson underwent his first corrective surgery, rhinoplasty, in 1979 after breaking his nose while dancing. The surgery was only partly successful and subsequently caused breathing problems, so he underwent a second rhinoplasty in 1980. Many more procedures followed; his mom Katherine Jackson admitted after his death that Michael was addicted to plastic surgery.
Article continues below advertisement
Bristol Palin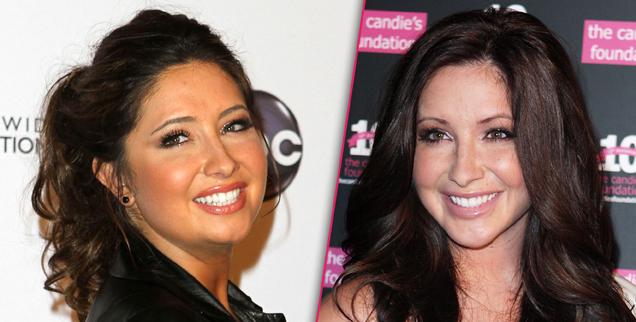 Bristol Palin: The Dancing with the Stars competitor and political daughter sparked talk of plastic surgery after her previously round face suddenly looked noticeably slimmer! Bristol told US Weekly she went under the knife in December 2010, when she was 20. "I had corrective jaw surgery. Yes, it improved the way I look, but this surgery was necessary for medical reasons so my jaw and teeth could properly realign. I don't obsess over my face," she insisted.
Article continues below advertisement
Amanda Bynes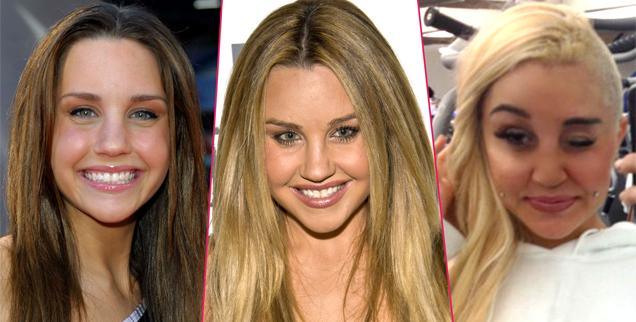 Amanda Bynes: The troubled former Nickelodeon star, now 27, revealed in May on Twitter that she had had a nose job. While Amanda didn't specify when she had the surgery, the actress wrote, "In Touchmagazine used a photo from years ago on their cover and I hate it! The reason I've asked all magazines and blogs to stop using old photos of me is I don't look like that anymore! I had a nose job to remove skin that was like a webbing in between my eyes. I wasn't going to tell anyone, but I look so much prettier in my new photos!"
Article continues below advertisement
Ashley Tisdale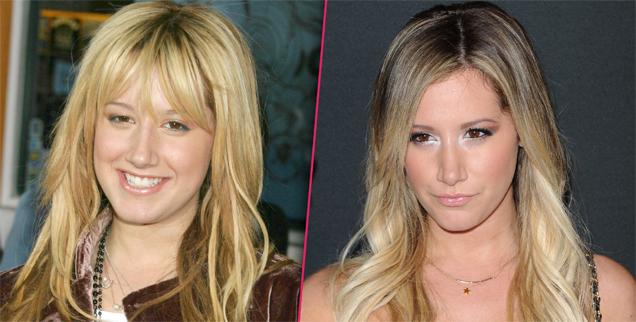 Ashley Tisdale: The High School Musical graduate 'fessed up to going under the knife when she was 22 years old, but claimed it wasn't for cosmetic purposes. In 2007, she had a nose job to "repair a deviated septum," Ashley said.
Article continues below advertisement
Tori Spelling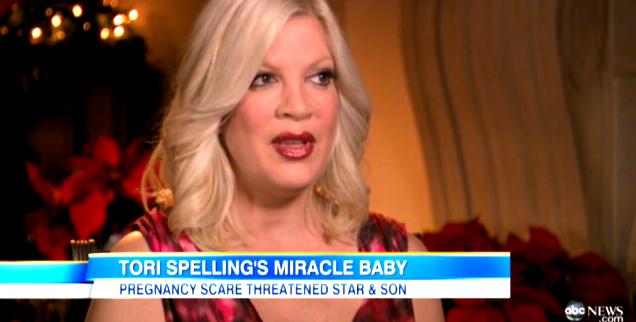 Tori Spelling: In an interview with Good Morning America, Tori said she regretted getting a boob job when she was young—because it later worried her as a breastfeeding mom. "Well, I got my boobs done in my early 20's and if I had known it would or could possibly impact production of milk, I would never had had them done," the former Beverly Hills 90210 star said.
Article continues below advertisement
Farrah Abraham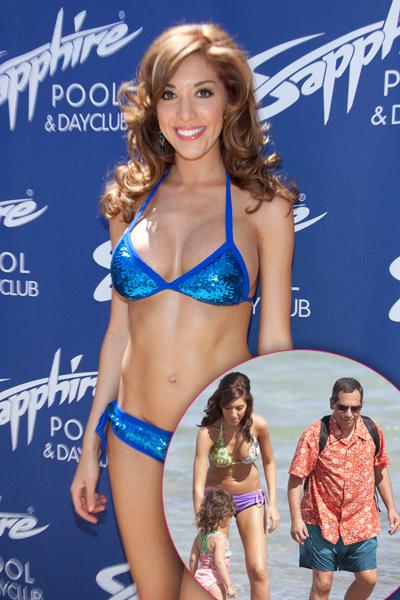 Farrah Abraham: Teen Mom star Farrah Abraham flaunted the results of her latest plastic surgery for In Touch magazine recently. The sex tape beauty revealed she underwent a second breast augmentation surgery three days after her 22nd birthday, upgrading her cup size from a C to a D and replacing her saline implants with silicone ones. This is the fourth time Abraham has gone under the knife in less than three years. She's spent almost $30,000 on a nose job, chin implant and two breast surgeries, In Touch reports. "I want to look my best. And I'm looking amazing," Farrah boasted.
Article continues below advertisement
Jenni 'JWoww' Farley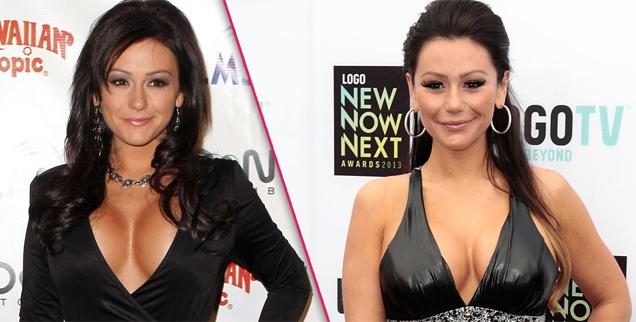 Jenni 'JWoww' Farley: The Jersey Shore star admitted to getting breast implants when she was 21—but she staunchly denied having cosmetically altered her face. Still, JWoww, aka Jennifer Farley, now 27, said in 2011, "I'll probably get Botox by the time I'm 30. And have my breast implants redone in a few years after I've had kids."
Article continues below advertisement
Kellie Pickler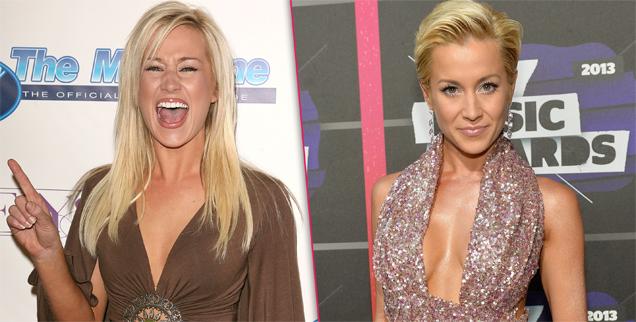 Kellie Pickler: American Idol season 5 contestant Kellie Pickler was the southern girl-next-door type, but after the show, her look really changed! The country singer was rumored to have had a breast augmentation and her bust boost was so obvious that Idol host Ryan Seacrest heavily hinted at it when she returned as a guest performer on the show. And then-AI judge Simon Cowell said, "It's like she'd gone to Dolly Parton school or something. I've never seen anything like it in my life."
Article continues below advertisement
Britney Spears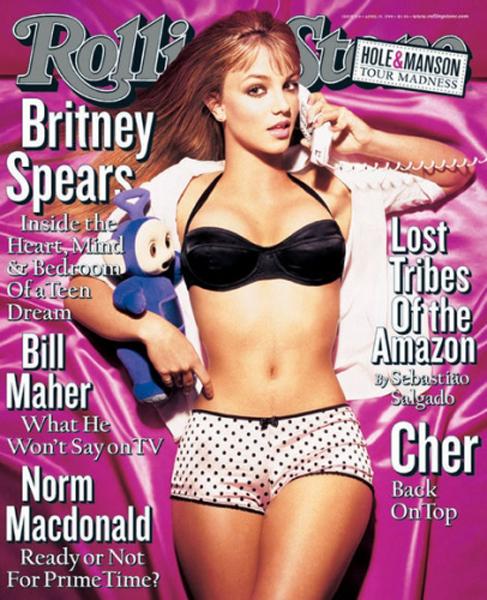 Britney Spears: According to the Feb. 2008 issue of Rolling Stone magazine, Britney was allowed to get breast implants as a teenager, but later had them removed. However, the singer has never commented on the report.
Article continues below advertisement
Janet Jackson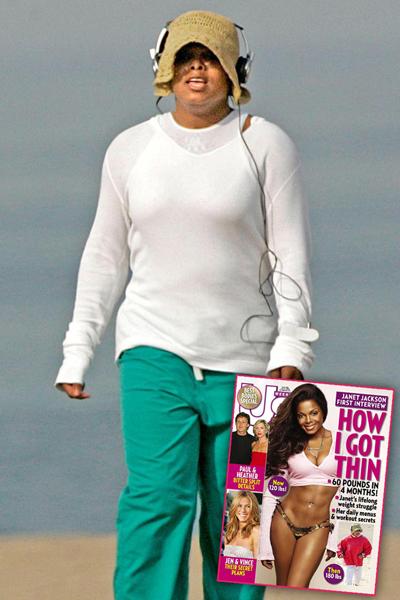 Janet Jackson: The singer admitted to having a nose job as a teenager, but denied going under the knife when she famously dropped 60 pounds in 2006.