One Big Happy Family? Tori Spelling Posts Family's Cheery Holiday Card, Despite Ongoing Issues With Dean McDermott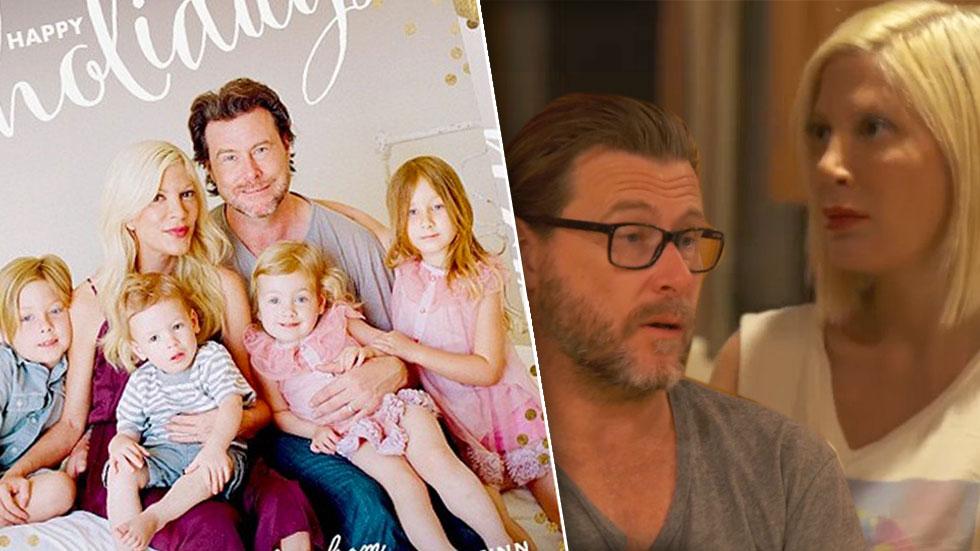 If Tori Spelling is trying to confuse the public, mission accomplished.
After nearly a yearlong — and very public — marital crisis with cheating husband Dean McDermott, playing out in both the media and on her reality show True Tori, the 90210 star Wednesday posted her family's annual holiday card — accompanied by a note that would make one think all is well in their world.
Posted on her website ediTORIal, Spelling accompanied the cheery card with an essay that portrays none of the strife she and husband McDermott have gone through over the past 12 months, sparked by a cheating scandal, and continuing with problems ranging from drug abuse to sex addiction to jilted exes to thoughts of suicide.
Article continues below advertisement
"This year went by so quickly, didn't it?" Tori wrote in the upbeat note, in which she gushed over how "the holidays are her absolute favorite time of year.
"From the cooking to the crafting to the gift giving and the festive décor, I find that there's just something about this season that makes me happy," she added.
Referring to a set of people that may, or may not, include naughty boy Dean, Tori said she uses the holidays to remind her family and friends "how much I truly love and appreciate each and every one of them."
She went on to plug the company that produced the card.
While everything might seem hunky dory from the looks of the card and Tori's words, it's clear that her marriage has been one in crisis, as recent episodes of her show have shown the struggling couple routinely fighting it out as they try to cope with their issues.
True Tori airs Tuesdays on Lifetime at 9/8c.