Tori Spelling's Husband's Suicide Attempt Was Exaggerated For Ratings — He Was Just Hallucinating After A Partying Binge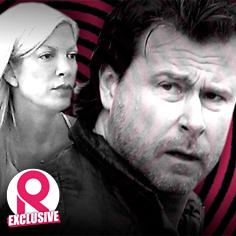 Tori Spelling's cheating husband, Dean McDermott, recently revealed on her train wreck reality show True Tori that he had attempted suicide which resulted in the Canadian native being placed on psychiatric hold at the Ronald Reagan UCLA Medical Center.
However, sources have exclusively told RadarOnline.com that the father of five never attempted to take his life, and was placed on the 5150 psych hold after hallucinating that he could fly — following a hard core partying binge.
Article continues below advertisement
"Dean didn't try to take his own life, nor did he threaten suicide. Tori panicked after Dean had come home from a partying binge, and was obviously under the influence. He kept telling Tori he could fly, and she was afraid that Dean was going to try and do something crazy, so she sought help for him," a source told RadarOnline.com.
"At no point has Dean ever wanted to end his life. Of course, after being confronted with the cheating allegations, Dean wishes he lived on another planet, but not dead. From UCLA, Dean was sent to another facility for further treatment. Essentially, Dean was at UCLA to detox."
Article continues below advertisement
According to Eustace's sworn 2005 declaration, she said, "In March 1999, I went to my parents for a family gathering with Jack her son with McDermott, who was an infant at the time."
She claimed McDermott "missed the gathering because he didn't feel well. During the course of the event, Dean McDermott walked into the living room, threw a bag of cocaine on the table and said, 'I have a cocaine problem.'"
The reason for deceiving viewers of True Tori all comes down to one thing, according our source.
"Ratings. It makes for a much better storyline that Dean tried to commit suicide," the insider added.
"Whereas if it was just Dean's hard core partying, it just wouldn't have a significant impact. There are also concerns about getting into the depths of Dean's drug problems because of his career. No one wants to hire a junkie."
Calls to McDermott seeking comment weren't immediately returned.