'I Don't Want A Boyfriend, I'm Still Married': Khloe Kardashian Couldn't Stand French Montana Calling Her '5,000 Times A Day'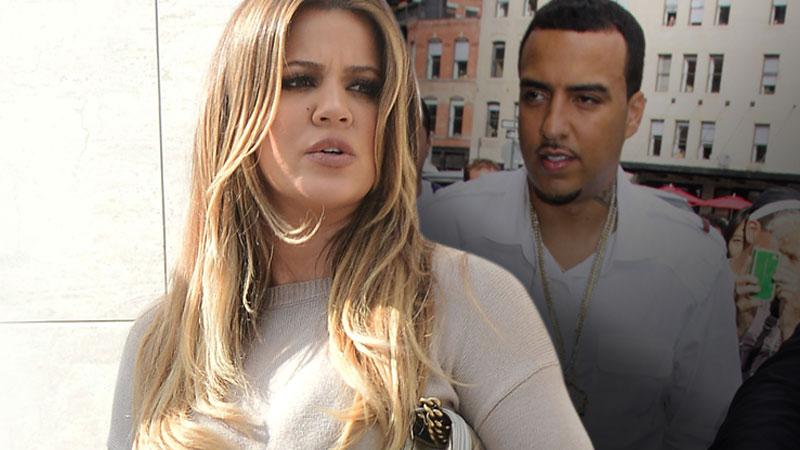 Khloe Kardashian's relationship with French Montana failed because he was MORE than keeping up with her – the rapper pestered her constantly with phone calls.
And Khloe — whose divorce from Lamar Odom is still on hold as RadarOnline.com recently reported, — decided she wanted to grieve her marital pain, alone instead of having a boyfriend.
That's what Kourtney & Khloe Take The Hamptons viewers saw on Sunday night's show as Khloe, 30, first seemed to be enjoying her time with fun-loving Montana, also 30.
Article continues below advertisement
After they cuddled in bed together, the eccentric singer left some fancy jewelry with Khloe and walked to his car with his socks on, shoes in his hand.
"I have so much fun with French because he's definitely a tad bit crazy; I'm entertained at all times," Khloe smiled to the cameras.
But later, it was apparent Montana also annoyed her with his clingy behavior.
"There's highs and lows in every relationship. I have no idea why French calls me 5,000 times a day," Khloe said in confessional.
During one of their phone chats, sister Kourtney got so frustrated she grabbed Khloe's phone and yelled, "We can't talk to you all day!"
Later, Khloe told her sister and Scott Disick, "French got arrested but has the energy and time to Instagram video and Instagram still pictures."
Watch the video on RadarOnline.com
When Kourtney asked what Montana and his friend who was arrested with him were doing, Khloe sighed, "God only knows.
Article continues below advertisement
"I'm more mad he had time to Instagram and not respond to my texts."
Then she suddenly remarked to Kourtney and Disick, "It's nothing against French -- I just think I don't want a boyfriend."
She admitted, "I jumped into something because I was lonely and destructive, but now I'm like, I just want to be alone. I gotta grieve."
Khloe also pointed out, "I'm still married."
Kourtney noted to the cameras that Khloe had rushed into a new relationship really quickly.
And as RadarOnline.com readers know, after more than a year after Khloe filed for divorce from Odom, the couple is no closer to splitting for good. In fact, the divorce is actually on track to be dismissed altogether in a few weeks unless action is taken.
Also on Sunday's Hamptons episode, then-pregnant Kourtney, 35, and Disick, 31, clashed as she wanted to keep his late parents' house and renovate it as a second home for their family — while "The Lord" dragged his feet on a decision.
Article continues below advertisement
Kourtney nagged Disick about cleaning out his old family home while he whined, "I haven't had much motivation to go over there."
He also said, "I want to forget about being from New York."
Kourtney boxed things up in Bonnie and Jeffrey Disick's old home, which was full of bugs and "a hot mess," the reality princess said.
She walked though the house with a consultant to see how it could be renovated, but Disick refused to go there and kept avoiding the issue.
"This is all freaking me out!" said Disick, who has had a hard time with the sudden deaths of both of his parents.
Later, after Kourtney and Khloe had tried to show him some items in boxes, and Disick had rejected looking at most of it, he told a real estate agent he "100 percent" wanted to sell his parents' house and ordered, "Get rid of it."
Disappointed Kourtney told Khloe that Scott didn't want the house anymore.
Article continues below advertisement
"I understand everyone grieves in their own time … I was thinking he would have wanted to keep it as a memory," Kourtney told her sister.
But Khloe said it was like their late father Robert Kardashian Sr.'s house which Khloe hadn't visited after his death and pointed out it could be "a toxic place' for Disick.
"You need to think of Scott," Khloe told her sister. "It's his choice — it was his parents."
As the show ended, moving men hauled away the last of the Disicks' items that Kourtney had decided to donate to charity.