Kenya Calls NeNe & Porsha 'Evil' After They Refuse To Believe Apollo Lied About Her Sexual Advances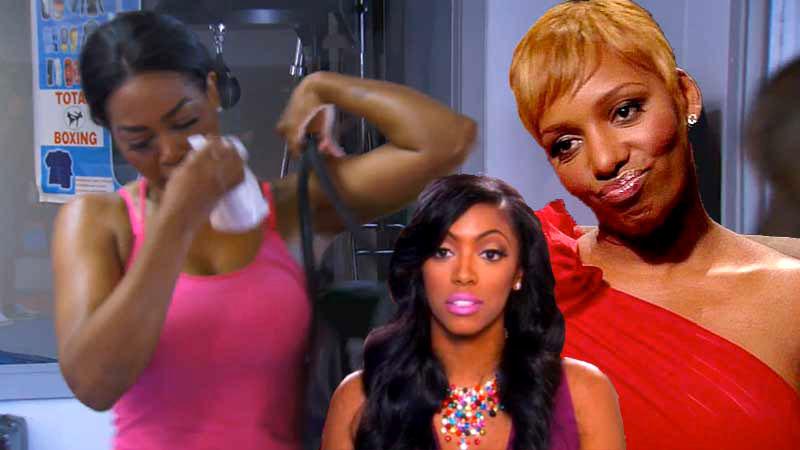 Article continues below advertisement
After Moore and Burruss took a kickboxing class together, The Kandi Factory star admitted when Moore had said nothing had happened between her and Nida, "I have to admit I didn't believe you totally. I want to apologize."
Burruss explained her friendship with Parks had made her take the attorney's side.
But Burruss also said Williams and Leakes thought Nida had NOT lied about Moore offering him sex — and they believed Nida had said he'd lied just to make Parks angry. As readers know, Nida and Parks were estranged following his sentencing to eight years in prison for bank fraud and identity theft.
Watch the video on RadarOnline.com
For two years, Nida had claimed Moore propositioned him, a charge the other housewives believed.
On Sunday night's episode, the fact that some STILL believed that sent Moore into a tizzy.
She shouted to Burruss, "F*ck them!
"I get sick of this sh*t. It's too much! Really? The man just confessed that everything was a lie and then you gonna sit up and still try to throw dirt on me?
Article continues below advertisement
"This is just bullsh*t!"
Moore got teary-eyed, stormed off, and even pushed the Bravo cameras back.
But audio captured Moore complaining to Burruss in the ladies' room, "I'm sick of these b*tches. They want to make me look bad at any cost. The man finally admitted what he did after two years of calling me every f*cking whore in the f*cking book, making me look bad…
"That man is a f*cking criminal…."
Moore said of Leakes, "I never did nothing to her. She's the one that turned on me.
"They go too f*cking far. They're evil, Kandi!"
Moore told the cameras, "I'm really just losing it at this point because I cannot win with these women.
"I just keep getting kicked."
Meanwhile, the drama continued for prison-bound, Nida, who met with Cynthia Bailey's husband Peter Thomas.
Thomas commiserated with Nida on the episode, admitting, "I did a lot of stuff when I was your age but I was never locked up more than 24 hours."
Article continues below advertisement
Article continues below advertisement
"I'm never going to be friends with her again, ever," Leakes said flatly to other housewives.
Leakes told the cameras, "Cynthia is trying to make her mark. It just don't look cute on her. I need her to go back to being the sweet little Cynthia that she wanted everybody to believe that she was."
Meanwhile, Burruss was upset about her employees' work ethic and her husband Todd Tucker decided to light a fire under manager Don Juan.
Article continues below advertisement
Don Juan told Burruss she didn't like her husband interfering and pointed out he gave up everything for her, missing his own mother's wedding but planning her's.
Don Juan told the cameras he'd been working for Burruss for 20 years and she had 60 million records sold "and Todd Tucker's resume reads what? I'll wait on it."
Tucker told him, "Kandi is the big b*tch around here … I want what's best for her."
Tucker insisted Don Juan needed to take the singer-turned-reality-star to the next level.
"We got a black President. She ain't did nothing with Obama," Tucker complained. "She should be more visible."
Don Juan was finally placated when Tucker suggested he should have a number two working under him.
"I'm happy to work with Todd as long as he gives me the respect I deserve — and we put him on a step stool so he can look at me in my eye," the manager laughed.