Watch: Fight Breaks Out At Kandi Burruss' Wedding Dress Fitting!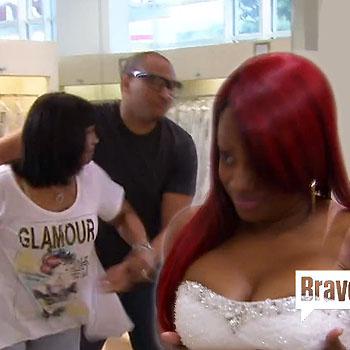 Article continues below advertisement
"Why don't you go?" Joyce tells Kandi's friend.
"I'm not going anywhere," Carmon calmly responds.
Upset, Joyce jumps up and yells, "This is a family thing, and you aren't family!"
She has to be restrained as she continues to shout, "Girl, I'm going to f—k you up!"
The clip flashes to Kandi, who is seen possibly reacting to the commotion.
"I have to go. I'm done," Kandi says as she rushes off in a wedding dress , with a bridal assistant in tow.
The Real Housewives of Atlanta airs Sundays at 8 p.m. ET on Bravo.