Exclusive
Kanye West Pressuring Anna Wintour To Put Kim Kardashian In Wedding Dress On 'Vogue' Cover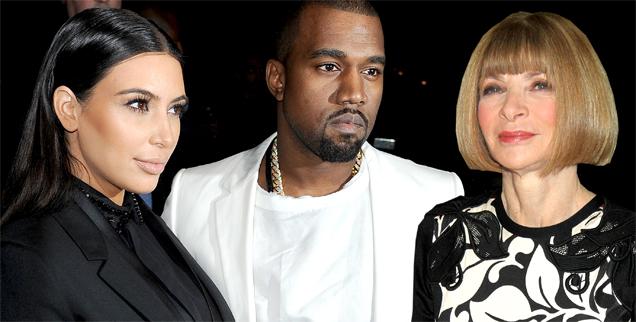 Here we go again! Kanye West has been pressuring Vogue Editor-In-Chief Anna Wintour to put baby mama and fiancee, Kim Kardashian, on the cover of the fashion magazine in her wedding dress, RadarOnline.com is exclusively reporting.
Wintour and Kardashian "were at Kanye's concert in Brooklyn on Tuesday night. Anna didn't sit next to Kim in the VIP section, and brought along fellow Vogue staffer, Grace Coddington. Kanye is absolutely determined to convince Anna that Kim should appear on the cover of Vogue wearing her wedding dress. Anna has remained typically aloof to Kanye's constant advances and offers," a source told Radar.
Article continues below advertisement
Kanye has also enlisted famed photographer, Mario Testino, a favorite of Anna's, to get Kim on the cover. Kim went to Mario's Alto Modo event in New York City on Monday night. She worships the ground Mario walks on, and trusts his eye. The couple will likely tap Mario to photograph their wedding."
During a recent interview with Ryan Seacrest, Yeezus said, "There is no way Kim Kardashian shouldn't be on the cover ofVogue. She is the most intriguing woman right now. She has got Barbara Walters calling her like everyday."
After the sex tape star gave birth to daughter North West, Kanye lobbied Wintour to put Kim on the cover debuting her post-baby body.
"Anna is NO fan of Kim or any reality star appearing in the pages of the magazine," the insider previously told Radar.
Back in May, in a fashion slap heard around the world, Vogue editors cropped Kim out of its Best Dressed gallery when she appeared with West on the Met Ball red carpet wearing the now famous and universally panned floral print ensemble.
Does Kim deserve to be on the cover of Vogue? Sound off below…