Cleared In Apollo Nida Sex Scandal, Kenya Moore Boasts She's 'Never Been Anyone's Wh*re'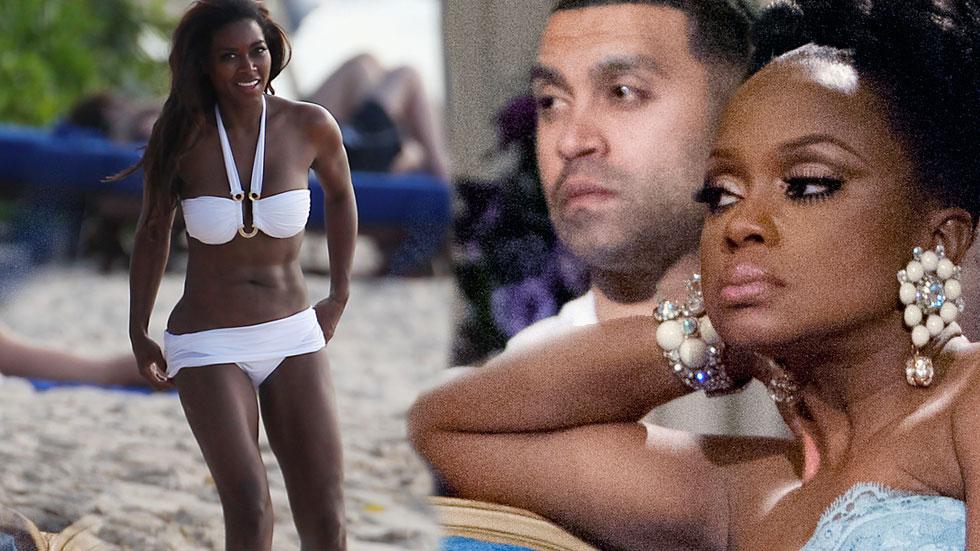 Kenya Moore took a victory lap of vindication in a new Bravo blog, where the Real Housewives of Atlanta beauty again set the record straight regarding the false accusation she offered oral sex to Apollo Nida, and threw some shade on the now-jailbird's estranged wife Phaedra Parks for not believing her in the first place.
"I have never wanted Apollo, never offered him sexual favors," Kenya wrote, days after Apollo's admission that he lied about the former Miss U.S.A. propositioning him. "Apollo clearly has the propensity to lie."
Article continues below advertisement
There's still clearly bad blood between Kenya and Phaedra, who she said "has called her a wh*re 99 different ways.
"I may be a lot of things, but I have never been anyone's wh*re," Kenya wrote, adding she was "appalled" that Phaedra — a lawyer by trade — should have "checked his story out before publicly slandering and defaming" her, and giving her the silent treatment thereafter.
She noted all of the labels Phaedra placed on her after Apollo's jaw-dropping allegation — including "alcoholic," "bipolar," "broke" and a "home wrecking wh*re."
The "Gone With The Wind Fabulous" singer said she suffered a measure of personal shame as result of the fiasco, asking, "Imagine how I felt having my family or 5-year-old nieces ask my why I would do something like that?"
Kenya also seemed to resent castmates Porsha Stewart, NeNe Leakes, and Kandi Burress for not having her back, as all three essentially reinforced the scandal by treating Apollo's scandalous accusation as legitimate.
"The same people who do the most talking and the most damage fall silent when they are proven wrong," she wrote. "Do I deserve an apology? Yes, without question.
"Will I get one? …Have I ever?"
We'll see if these two can get along moving forward when the Real Housewives of Atlanta airs Sunday at 8/7c on Bravo.