Whoa There! Kenya Moore Shows Off Her Stallion 'Booty' As She Mocks Phaedra Parks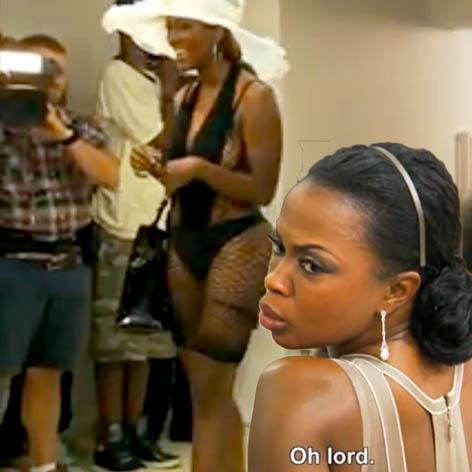 Kenya Moore took her "booty" war with Phaedra Parks to a whole other level on Sunday night's episode of The Real Housewives of Atlanta.
The former beauty pageant queen made a daring entrance to a party for the launch of NeNe Leakes' shoes, which she designed for ShoeDazzle.com.
Kenya, 42, arrives at the glitzy party wearing nothing but a black mesh see-through dress topped with a white hat that appears more suitable for a day at the Kentucky Derby.
Article continues below advertisement
Showing her virtually naked bottom and with black strips of material that barely preserve her modesty the former Miss USA made an elaborate entrance that leaves other partygoers and her fellow housewives slack-jawed.
It is Kenya's blatant attempt to mock Phaedra who wore a similar outfit earlier in the season during their trip to Anguilla.
In the episode, Kenya tells her friend exactly what she plans to do as they drive to the party.
She says: "It's going to be live and in living color. You wanna call me crazy?"
Speaking in a fake Southern accent she mimics Phaedra, saying: "That Kenya girl she must need some medication huh?
"'Cause after she didn't do what I wanted her to do I'm…gonna say anything in the world to just make other people not like her.
"I do know what defamation of character means honey. And I do know what slander means, because I've been doing that to my good ole friend Miss Kenya."
MORE ON:
The Real Housewives of Atlanta
Article continues below advertisement