'Donkey Booty' Workout Strains Friendship Between Kenya Moore & Phaedra Parks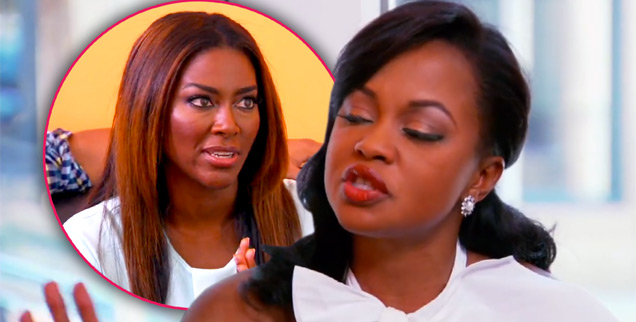 If business and friends don't mix -- then business and housewives REALLY don't!
We learned as much on Sunday's edition of The Real Housewives of Atlanta, as once-pals Kenya Moore and Phaedra Parks showed off an oil-and-water dynamic while trying to hammer out a deal over an exercise tape Phaedra was making.
Phaedra -- seeking Kenya's production expertise for her "donkey booty" workout vids -- scoffed at Kenya's demand of a $100,000 budget for the tape and 10 percent of the back-end profits. The money, as expected, was a huge sticking point between the two, as Phaedra's inability to pony up irritated the sexy Kenya to no end.
Article continues below advertisement
"I can barely buy a pair of shoes with what they're paying me -- and I only wear $1,000 shoes," Kenya said, later grousing, "I don't work for free!"
Said Phaedra: "She keeps insinuating we're doing something for free. We are out of slavery. This is the normal course of business. You negotiate."
Tension was only heightened when Phaedra asked Kandi Burruss' boyfriend Todd if he would produce her video for a fraction of what Kenya was asking for.
Watch the video on RadarOnline.com
Kenya's timing of prodding Todd for details at an elaborate birthday bash Kandi threw for him only made things worse, as Kandi admonished Kenya, "No offense Kenya, love you to death, but this is his birthday, so I don't really want to talk business right now."
In the end, an insulted Kenya disengaged herself from the deal -- and said she'll make her own workout tape -- likely leaving a rift with Phaedra that will progress as the season does.
Other storylines Sunday included Kenya looking back on her break-up with ex Walter; and NeNe Leakes getting adjusted to life out west with her significant other, Gregg.
The Real Housewives of Atlanta airs Sunday on Bravo at 8/7c.