This Party Is Whack! Porsha Stewart & Kenya Moore Bring The Insane Drama With A Fierce Battle!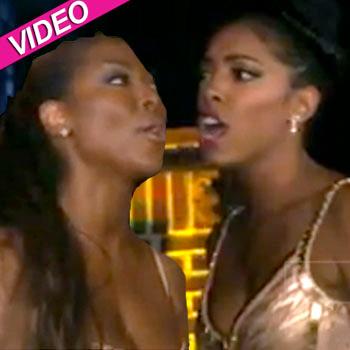 Article continues below advertisement
In the video, the two women are seen bickering on the street, and Kenya explains why she's so mad at Porsha.
"This woman who I just met, who asked me to come to her event, gets on the mike and calls me Miss America," the former Miss USA says during a one-on-one camera segment.
Cue the live action cat fight!
"You are being disrespectful," Porsha tells Kenya, which sets the former beauty queen off!
"Disrespectful is inviting me to an event and not even knowing what my title is!" Kenya snaps back.
Instead of apologizing, Porsha says the title was from ages ago – "From 19-whenever, I don't remember that," she snipes, before ordering Kenya to leave the event.
"No sweetheart," Kenya says. "You didn't kick me out, this is my back as I am leaving!"
Check out the video of Porsha and Kenya fighting over the "whack" event and tune into the Real Housewives of Atlanta on Bravo Sunday 9/8c.
RELATED STORIES: