Making Dough From Swinging Off A Pole! NeNe Leakes Talks Stripper Past, 'It Was A Great Hustle'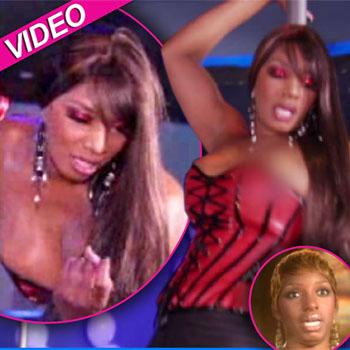 She may be one of the most talked about reality turned television stars in Hollywood, but before she got her big break and became a "very, rich b***h," NeNe Leakes was a stripper!
Listen! 'RHOP' star Wendy Osefo breaks down the "most intense fight in the show's history" in under 2 minutes.
The Real Housewives of Atlanta personality, who is currently starring on NBC's The New Normal, spent three years swinging off stripper poles, and is opening up about the experience in the December 2012 issue of Ebony – and RadarOnline.com has the details.
Article continues below advertisement
Leakes, who attended Morris Brown College in Atlanta for two years, ended up working as a stripper for three years when she was a 23-year-old single mom.
"I used the name Holly and then Silk," reveals the 44-year-old. "I thought I made pretty good money. It was a great hustle."
Leakes, who also modeled in her younger years, explains that stripping was an efficient way to make money and pay the bills.
MORE ON:
hollywood happenings
"If I needed to make $1,000, I got dressed and went to the club. If me and my roommate needed $5,000 by the weekend, I would work all week. What you mentally wanted to make, you could make.
"Everybody dancing beside you is usually another student. Atlanta strip clubs are full of students. There are a lot of conventions there. You can make a ton of money. I remember working at the strip club about a month and then bought a new car. The money was fast."