Joanna Krupa Storms Out Of Party After Adriana De Moura Calls Her 'Super Hooker' And 'Super Whore'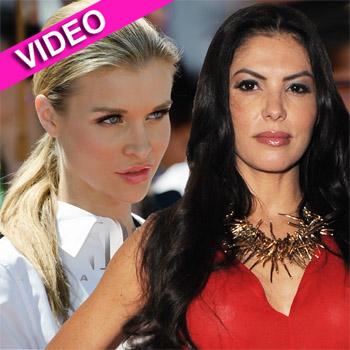 As if that infamous punch wasn't bad enough, the bad blood between Adriana De Moura and Joanna Krupa is getting even worse -- with nasty name calling.
On The Real Housewives of Miami Thursday night, the gorgeous art curator and Polish stunner once again clashed – this time, at an annual gala held by castmate Lea Black, and RadarOnline.com has the blow-by-blow details.
Joanna tried to get her fiance -- hunky nightclub owner Romain Zago -- to rescue her from the bad scene, but he was still fuming over Joe Francis' claim he'd bedded the 33-year-old Polish-born model and her sister. (Of course, the mere presence of the man behind Girls Gone Wild at same event raised tension that much more.)
Article continues below advertisement
Watch the video on RadarOnline.com
While castmates Karent Sierra and Lisa Hochstein tried to reassured Joanna things would work out, the Dancing with the Stars beauty was inconsolable. After being crudely heckled by Adriana -- with chants of "super hooker" and super whore" -- Joanna left the shindig.
As the show aired Thursday, Krupa took to Twitter, writing, "When I do something I stand up and admit to it not try to lie and weasle my way out. I was assaulted by a vicious woman. One thing I am is REAL and I don't run away and make excuses for myself. If I am wrong I admit to it. I would never physically hurt a human."
She also re-tweeted many of the supportive messages she'd received from viewers aghast at Adriana's public potty mouth.
Among them: "you're a SUPERMODEL. Adriana does not have class!" … "wow, Adriana is such an ugly person! Called Joanna a whore...really?! Showing no.class!!!" … and "@joannakrupa is the hottest housewife, props to keepin it classy and not hitting donkey face Adrianna back "
The Real Housewives of Miami airs Thursdays at 9/8c on Bravo.