The Feud Rages On! Kim Zolciak: I'm Not 'Comfortable, Safe, Or Happy' Around NeNe Leakes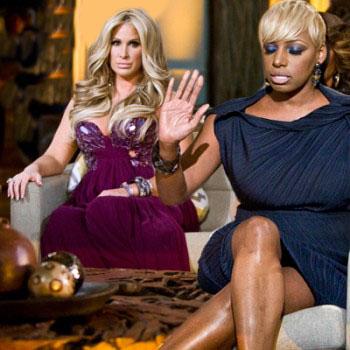 By Adam S. Levy - RadarOnline.com Staff Writer
Tardy for the party? Kim Zolciak almost didn't show up!
The Real Housewives of Atlanta star goes into detail about her tense showdown with castmate NeNe Leakes as she was leaving a party NeNe held, saying she "didn't feel comfortable, safe, or happy about going in the first place" in a new Bravo blog, and RadarOnline.com has the details.
Kim, 34, says she only accepted the last-minute invitation to the bash to give her friend-turned-enemy "the benefit of the doubt," despite "the numerous times she's verbally and physically attacked me.
Article continues below advertisement
"I didn't feel like I owed NeNe anything, especially since I swallowed my pride and decided to show up anyway."
Kim, who was pregnant at the time of the bash, said she was tentative about attending because of the breakout star's mercurial temper.
"I've said this a million times and I stand by it: NeNe is unpredictable!" Kim wrote. "I thought it was very odd and out of the blue she would want me at her event. For all I know, I could have blinked at her the wrong way and ended up in the pool."
Kim said she also found it strange that NeNe, 44, didn't even greet her after two hours at the bash, but when she was about to leave, NeNe, who now co-stars on NBC's The New Normal, insisted she stay five more minutes.
"My support and being there should have been enough, but some people are never satisfied," Kim said. "Let's be honest, NeNe has a motive behind everything she does.
"Did that look like a genuine person standing there asking me to stay? I think NOT!"
Article continues below advertisement
As RadarOnline.com previously reported, on Wednesday NeNe told US magazine she thought Kim came off "racist" after she cracked a joke that her African American castmate didn't need an outdoor pool because she couldn't tan.
"Her remarks were racist … no ifs and or buts about it … I don't like people who talk like that," NeNe said.
The Real Housewives of Atlanta airs Sunday on Bravo at 9/8c, while NeNe can also be seen in NBC's The New Normal Tuesdays at 9:30/8:30c.