Kim Zolciak Trashes NeNe Leakes: She's Not Funny And She's Mean Spirited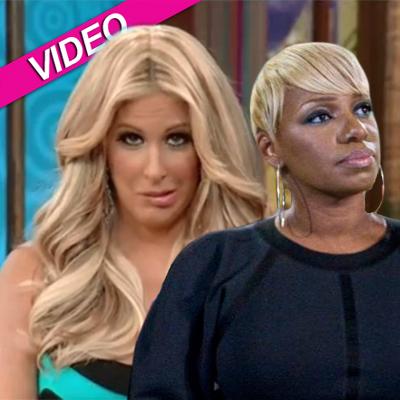 Looks like Kim Zolciak and NeNe Leakes wont be burying the hatchet anytime soon.
Kim stopped by the Wendy Williams show Thursday to promote her new show, Don't Be Tardy for the Wedding, and made her feelings perfectly clear when it comes to her arch nemesis.
"She's really changed, and she's not funny to me anywhere," the Real Housewife said. "She used to be really funny."
"She's not funny to many of us either, it's more like mean-spirited," Williams said in agreement.
Article continues below advertisement
Kim went on to explain what she feels the root of the problem is with her outspoken costar and why she believes they won't be reconciling anytime soon.
"I think the problem with NeNe honestly is that Nene doesn't have the tools to communicate effectively," she explained. "And if NeNe could really sit there and talk to me and communicate ... Like, people get in arguments with my girlfriends and you disagree, but you can't get loud and violent, that's a problem.
"If she had the tools to communicate effectively and kind of work through things, then there's a possibility that I'd sit down and have a conversation."
Kim shared that she is still waiting to hear from Bravo as to whether there will be a fifth season of the Real Housewives of Atlanta, but in the meantime she has plenty to keep her busy!
Zolciak, 33, recently announced that she is expecting her second child with husband Kroy Biermann -- she also has two daughters -- Brielle, 14, and Ariana, 9 -- from previous relationships.