It Gets Ugly...AGAIN! Nene Leakes & Kim Zolciak Face Off Over Rental Home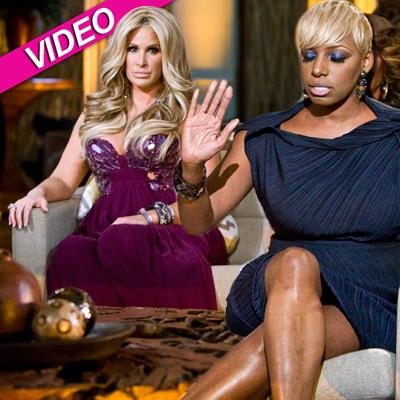 Nene Leakes and Kim Zolciak got into an epic battle on Sunday on the Real Housewives of Atlanta Reunion show.
The former friends, who have not spoken at all this season, got into a massive fight after Kim lambasted Nene for once again talking about how she rents her expansive mansion rather than owning it.
"This s**t makes me laugh because you rent your house," Kim told Nene.
"When you rented your house, you got there on camera saying to Sheree, 'You know I don't live behind people and I moved into my 'dream home,'" Nene mocked. "Honey, when you move into your dream home honey you buy it."
Article continues below advertisement
Kim then retorted that she wasn't "dumb" and was mad because Nene tweeted that "Kim rents her house."
"B***h I do, but guess what, we're closing next month," the pregnant reality star hit back at Nene. "We bought the house. You know why we rented? Because Kroy Biermann, her NFL player husband is a free agent."
The house in question is a 17,000 square foot; $3.25 million mansion in Roswell, GA. Kim is expecting her second baby with Kroy, they already have a son together, Kroy Jr. and Kim has two daughters from a previous relationship.