Kim Zolciak Confronts Kandi Burruss About 'Little Black Babies' Racist Comment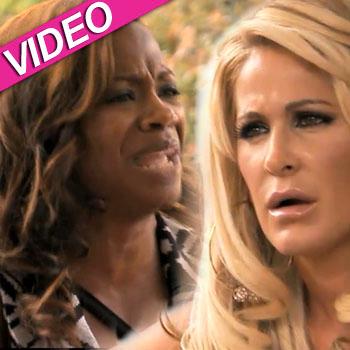 Article continues below advertisement
"What did you say about me Kandi, and an orphanage?" Kim asks and then the sparks fly!
"Kandi is supposed to be Kim's friend and she's saying negative things behind her back," Sheree says in a later filmed segment, as a defensive for stirring up trouble. "And I'm going to say something because I didn't think it was right."
Kandi defends herself and says that she only said that she didn't think Kim would have gone to Africa... period...and then she blames Sheree for putting the derogatory comments on her.
"You got her on the phone, and then Sheree said, Kandi said she couldn't see you holding little black babies!" she says as way of explanation.
Kim is furious at Sheree though, slams the statement and a true Housewives fight starts, with tempers boiling and voices being raised!
Check out the video for the shocking fight and tune into the Real Housewives of Atlanta on Bravo, Sunday, March 4 at 9/8c.
RELATED STORIES: