Real Housewives Of Atlanta's Tearful Visit To An African Orphanage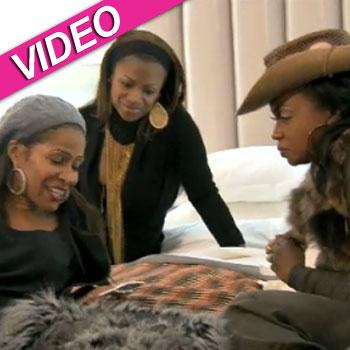 By Debbie Emery - Radar Reporter
The Real Housewives Of Atlanta are back from their trip to Africa, and they are bigger, better, and badder than ever, and RadarOnline.com has a sneak peak of their life-changing experience.
An adventurous safari to Africa proves that even abroad, a housewife will always be a diva, and even though Kim Zolciak isn't even on the same continent, she's still part of the conversation!
Article continues below advertisement
After getting up close and personal with the wild animals, in a rare act of selflessness the women visit an African orphanage to see how the other half live, and were deeply moved by what they see.
The reality stars had a heartwarming meeting with the neglected children, who are all four-years-old and are heading to elementary school next year, explains a volunteer.
Both the women and the kids are excited to take a group in the school room, as they all shout "Cheese!" to the camera.
"Interacting with those kids just really made me feel like I wanted to give more," explained NeNe Leakes, who is almost brought to tears by the experience.
Tune in for the new episode of Real Housewives Of Atlanta on Bravo, Sundays at 9 p.m.
RELATED STORIES:
Atlanta Housewife NeNe Leakes: I Want My Own Show!
Real Housewife Kim Zolciak Weds Atlanta Falcon Kroy Biermann
Something Old, Something New: See Kim Zolciak's Pre-Owned Wedding Gown!