RHOA Drama: Kim Zolciak Angry That NeNe Leakes Was Tardy For Her Own Party, Kenya Steals The Spotlight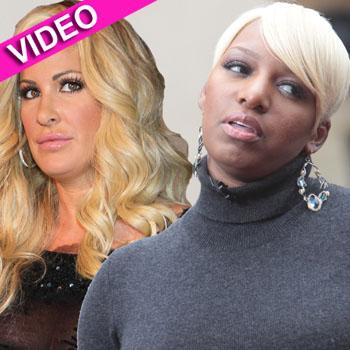 The women of The Real Housewives of Atlanta have had their fair share of drama, but none more than arch rivals NeNe Leakes and Kim Zolciak.
On Sunday night, they both added fuel to their already flaming fire, and RadarOnline.com has the details.
Cynthia Bailey hosted a party in NeNe's honor to celebrate her role on NBC's The New Normal, and surprisingly NeNe extended an invitation to Kim.
Article continues below advertisement
"When Phaedra told me that NeNe wanted her to invite me to this party, I almost fell the f**k over. I'm not an a***hole, so I'm going to go, but I want to get the f**k out of here," Kim complained.
NeNe was running late to the event because of a wardrobe malfunction, and Kim made no attempt to hide her irritation.
"Well, I'm leaving in about two seconds. This started at six and it is eight, so what is going on?," she complained.
"I'm really late. I thought this was an event for NeNe, where is she? I am very f**ing late, my husband is going to kill me."
When NeNe finally arrived, she bumped into Kim and tried to coax her into staying for five more minutes. Kim sneaked away promising to return after she went to the bathroom, but then rushed to the door and took off.
"It's hot as f**k and I want out, I really don't have an awful lot to say to NeNe. I've never been so motivated to get the f**k out of somewhere in my entire life," Kim revealed.
Article continues below advertisement
Meanwhile at the event, Kenya Moore continued her reign as top diva, and in the process infuriated some of her fellow castmates. She took to the microphone to make a speech, and acted like she was hosting the event.
"For Kenya to feel entitled enough to take the microphone and make speeches, it was a little tacky," Cynthia said.
Kenya then pulled NeNe aside and said that she hoped they could still be friends, even though Kanya and Cynthia don't get along. Cynthia then jumped into the conversation and basically told Kenya to get a life, and then some.