What Are You Hiding In That Hair? Real Housewives Of Atlanta Stylists Spill Shocking Secrets!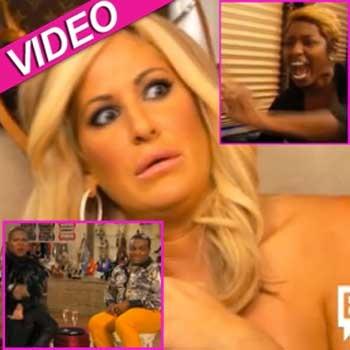 With all the hair raising antics, which take place on The Real Housewives of Atlanta, it seems only fitting that the cast stylists finally tell all about the deep rooted secrets of the ladies' tresses, and RadarOnline.com has video of their catty confessions!
The cast's friends and miracle workers Lawrence and Derek J took a trip back in time in an hour-long special Sunday in which they revealed what really goes on when the cameras stop rolling on the Atlanta ladies.
Article continues below advertisement
"Women tell their hair stylists everything and Lawrence and Derek J are ready to share their colorful insight, present their favorite clips and spill the 'tea' (beans) on the ladies before the November 4 season premiere," Bravo announced ahead of the special.
The clip also offers a sneak peek at Season 5 which appears to be as heated as ever when NeNe Leakes takes aim at Kim Zolciak.
NeNe explodes at the fellow housewife branding her an "immature dumb blonde" before things very nearly get physical between them.