Ouch! Real Housewife Kim Zolciak Lays Into NeNe Leakes For Being Late To Her Own Party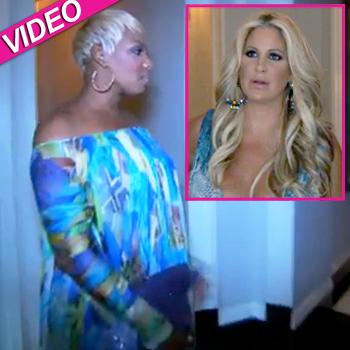 By Debbie Emery - RadarOnline.com Reporter
It wouldn't be a Real Housewives Of Atlanta party without a catty showdown, and the claws were out yet when NeNe Leakes threw a bash to celebrate her role in the sitcom, The New Normal, and RadarOnline.com has a sneak peek at the bitchiness that ensues.
The aspiring actress generously invited sharp-tongued nemesis, Kim Zolciak, who went to no effort to hide her disdain over not only having to attend, but also the host's late arrival.
Article continues below advertisement
"When Phaedra told me that NeNe wanted her to invite me to this party, I almost fell the f**k over. I'm not an a***hole, so I'm going to go, but I want to get the f**k out of here," hissed the Southern belle.
When her co-stars marvel that she had even turned up, Kim snaps: "Well, I'm leaving in about two seconds. This started at six and it is eight, so what is going on?
"I'm really late. I thought this was an event for NeNe, where is she? I am very f**ing late, my husband is going to kill me," she complains.
Meanwhile, NeNe is excited about her premiere party and gushes, "I've gotta get to the party, all the guests have arrived. I'm hyped, I'm like, 'Yes, let's do this!'"
Even when she bumps into Kim, Leakes gushes enthusiastically, "You guys leaving? Come wait five minutes!" before she even realizes who it is.
"As soon as I get off the elevator I walk right into Kim and go 'Aaah, hi!'" NeNe explains off-camera.
Article continues below advertisement
Despite her cheery welcome, Kim responds with a verbal bashing, saying: "I'm already almost 40 minutes late, where were you – it's two hours?"
Zolciak doesn't shield the viewers from her bad mood either! "It's hot as f**k and I want out, I really don't have an awful lot to say to NeNe. I've never been so motivated to get the f**k out of somewhere in my entire life," she reveals afterwards.
The full party politics air in the upcoming episode of Real Housewives Of Atlanta on Sunday, November 11 at 9 pm on Bravo.