Real Housewives Of Atlanta Premiere: NeNe's Ex Begs, Kandi Talks Kids & Kim's On The Move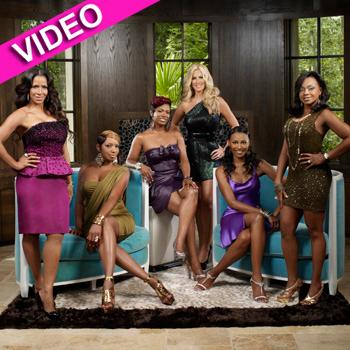 The Real Housewives of Atlanta didn't disappoint in its season 5 premiere on Sunday night, and RadarOnline.com has all the juicy details.
Now that NeNe Leakes has landed herself a gig on NBC's new sitcom The New Normal and is making a name for herself in Hollywood, not to mention bringing home the bacon, her ex, Gregg, turned on the charm and begged her for a second chance with her, but she's going to make him work for it.
Article continues below advertisement
"Of course Gregg wants me back; I'm doing a lot of things," NeNe said.
"We always had a great relationship, and it was very difficult during the time we weren't together so I'm open to it," she said, noting that it's not going to happen immediately. "Gregg's got to prove himself!"
Kim Zolciak and hubby Kroy Biermann are expecting their second child together, but they got an unexpected surprise when the house they've been renting was valued for $1 million less than the asking price, so they decided to move instead of buying, which is no cheap feat because the moving company gave them a quote of $101,000!
And maybe it was jealousy because Kim has to give up her dream home, but when she went to visit castmate Kandi Burress' new home, she described it as being in "the hood," even though it's in a gated community and the mayor is her neighbor.
Kandi now lives with her boyfriend Todd, and the two are already talking about starting a family together.
Meanwhile, things got heated when Cynthia Bailey enlisted the aide of new castmate Kenya Moore to help find models at The Bailey Agency.
Article continues below advertisement
The former Miss USA didn't rub Cynthia the right way when she was so outwardly mean at the casting call, telling one girl she didn't even know why she showed up and joking about one girl having an Adam's apple; this resulted in a screaming match between Kenya and Cynthia's assistant, who nicely tried to coach her into being less snarky with the models.
And finally, Phaedra Parks is working hard at her mortician business and now her goal is to become "the Vera Wang of funerals," and plans to expand her business by taking on pet funerals.