Racism, Jealousy, Threatened Walk Outs, Fights & Flirting! Shocking Secrets Of The Real Housewives of Atlanta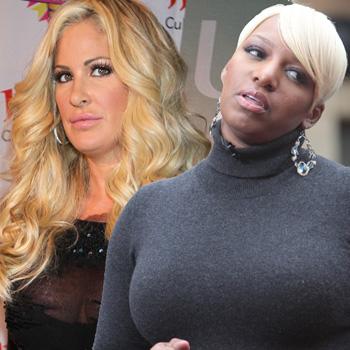 Kim Zolciak wants out. NeNe Leakes plays peacemaker. And a disliked diva emerges to make the rest of 'em look pleasant.
Yes, you can expect the unexpected and more on this season's The Real Housewives of Atlanta, and we've got all the details for you right here on RadarOnline.com.
In a new US Weekly story, the cast details their comings and goings, with one of the show's main storylines -- the raging feud between NeNe and Kim -- winding down, as Kim, now an NFL wife, is looking for more tranquility, a quality rarely found in front of Bravo's cameras.
Article continues below advertisement
"My priorities have changed," Kim, 34, tells the magazine, noting the toxic environment of the show. "With these ladies I fell like nine times out of 10, there's going to be an argument. They're not happy for me. They're not supportive."
Hey at least they're consistent: Kim's arch-rival NeNe, 44, calls her a "racist" after she cracked a joke that an African American castmate didn't need an outdoor pool because she couldn't get tan.
"Her remarks were racist...no ifs and or buts about it...I don't like people who talk like that," NeNe said. In her defense, Kim said NeNe's the bigot of the bunch, who regales her with slurs like "white trash" and "trailer trash" during their epic blowouts.
"She has an anger problem," Kim says of her nemesis, "and is jealous."
Elsewhere, new cast member -- and former Miss USA -- Kenya Moore, 41, gives franchise bad girl favorites Teresa Giudice and Brandi Glanville a run for the "Most Hated" moniker, ruffling feathers when she flirts with Phaedra Parks' husband Apollo Nida -- and erupts on fellow newbie, gorgeous Porsha Stewart (also an NFL wife, to former Steelers QB Kordell Stewart).
Article continues below advertisement
In one sequence when the ladies take a cast trip, tempers flare up, at which point Porsha says Kenya called her a "f***ing bitch," nearly leading to blows. In the end, it's NeNe who got between the beauties as a security measure.
"She was looking wild and crazy!" NeNe told the magazine. "Kenya claims she's strong, but I'm strong too. I was like, 'I'll hold you down!'"
Other storylines on tap this year include NeNe's reconciliation with ex Gregg; mellow-mannered Kandi Burruss finding love again; and Kim seeking out a dream home.