Exclusive
Green-Eyed Diva! Sheree Whitfield Was Jealous Of Housewives Side-Kicks Kim Zolciak & NeNe Leakes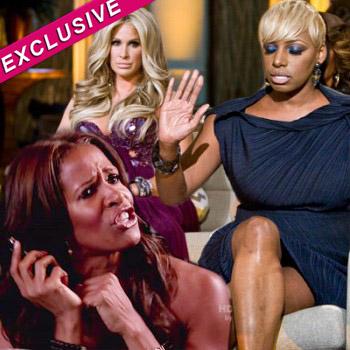 Article continues below advertisement
As RadarOnline.com revealed, after weeks of speculation, news broke Wednesday that Sheree will be parting ways with the Housewives.
"After four solid seasons of helping Bravo build the show into its most successful Housewives franchise, I have decided to leave. The direction the show is going in is no longer a fit for my lifestyle. I'm tired of the fighting and the cattiness," Sheree told Wetpaint.com.
While she claims she chose to leave, an insider told RadarOnline.com, "Sheree was fired. She was demanding more money and that didn't go over well with show executives. They are tired of dealing with her diva attitude and demands."
Whether she walked willingly out of the door or was pushed – Sheree hadn't been happy with her treatment for a long time, and felt that Kim and NeNe's personal projects were being nurtured by producers, and hers were made into a punch line.
Article continues below advertisement
"They went out of their way to promote Kim's wig line and gave her a spin-off for her wedding," explained the insider, plus helping make her single Tardy For The Party become a surprise dance hit.
As for NeNe, she was allowed to guest star on Glee, compete on Celebrity Apprentice and then played the diva card with Bravo and demanded she would quit if she didn't get her own show.
"They let her do whatever she wants because they are so scared to lose her!" said the source.
While Kim and NeNe's stars were helped to shine, Sheree had her dreams squashed. "She launched a clothing line and they turned it into a joke about how bad the clothes are," revealed the friend. "She wants to be a fitness instructor and they didn't even promote that.
"They didn't encourage her like they did the other two. She is just not as exciting, she is not as ridiculous, so viewers don't care as much."
Article continues below advertisement