Kenya Moore's Ego Trip: 'Every Day Somebody Thinks I'm Beyonce!'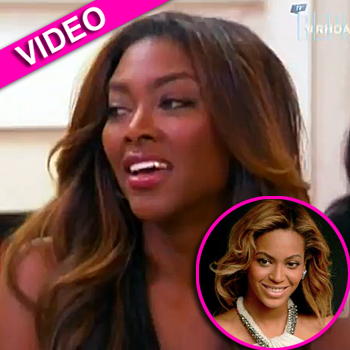 Kenya Moore dug herself into somewhat of a hole with her critical castmates on Sunday's edition of The Real Housewives of Atlanta, recalling how a grocery bagger had just asked her if she was Beyonce -- a mistake she says occurs daily!
"Everyday somebody thinks I'm Beyonce!" Kenya said on Sunday's show, noting that a group of "a hundred people" mistakenly sought her autograph and pictures when she attended the 2009 inauguration.
Article continues below advertisement
"You don't look like Beyonce," castmatePorsha Stewart sniped in an off-camera interview. "I'm sorry, I don't know who told you that to try and get in your panties, but it's not true."
Porsha joked, "I look like Solange," to whichKandi Burruss added, "Now you're sisters!"
Watch the video on RadarOnline.com
Castmate Cynthia Bailey threw in an extra dig, asking the former Miss USA, "If Kenya thinks she looks so much like Beyonce, why can't she get her man to put a ring on it?"
(To add insult to injury, Kenya's relationship with boyfriend Walter Jackson ended in the same episode.)
On her Twitter account Sunday, the gorgeous Kenya reaffirmed her statement, writing: "People have always said i look like Beyonce. I dont see it & doesn't mean I think it 2! @Beyonce is gorgeous no doubt comparison is an honor."
RadarOnline.com readers, your thoughts -- is Kenya Destiny's doppelgänger, or is it time she get new mirrors?
The Real Housewives of Atlanta airs Sunday on Bravo at 8/7c.
radar_embed service=bravotv src="http://www.bravotv.com/video/embed/?/_vid2616452" width="400" height="225"