Exclusive
Where's Daddy? Apollo Nida's Sons Sending Him Heartbreaking Drawings, Letters In Prison — Phaedra Parks 'Allows Frequent Calls'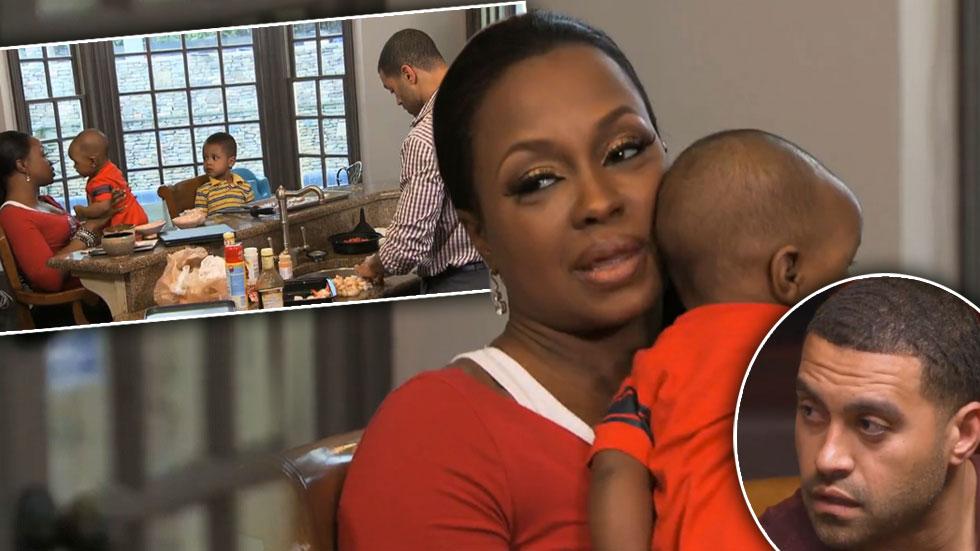 Real Housewives of Atlanta star Phaedra Parks' marriage is over, but she does not want her sons to grow up without a father. RadarOnline.com has learned that despite an impending divorce, Parks has been allowing her estranged husband, Apollo Nida, who recently began serving an eight year prison sentence for fraud, to talk to their two young boys, Ayden, 4, and Dylan, 1, on the telephone from his correctional facility in Kentucky.
Article continues below advertisement
"Phaedra lets the boys talk with their father anytime and every time he calls; they last spoke as recently as yesterday," Parks' rep Steve Honig told RadarOnline.com exclusively.
"Phaedra also has the boys write him letters and draw him pictures, which she sends to him," Honig continued. "She goes out of her way to enable the boys to communicate with their father, and anyone who says otherwise is lying."
Parks has been under fire in recent weeks, ever since she skipped Nida's sentencing, only to announce their marriage was over soon after that. But she recently addressed criticism on her Bravo blog.
"Words cannot express the turmoil this situation has caused our family, and I can't even begin to articulate how hard it has been," she wrote. "When you face a situation like this, you can choose to either break down or stay strong; I chose to stay strong because I have two young children that need a parent to give them stability and keep the ship sailing."
"I've been criticized for not being at Apollo's hearing, but the truth is I had been there for him in so many ways for such a long time," she continued. "By the time all of this went down, it was apparent the marriage was over and my focus needed to be exclusively on the wellbeing of our children. I don't think there's a parent out there who wouldn't agree."
Article continues below advertisement
RadarOnline.com broke the story: Parks plans on divorcing Apollo, and sources say to "expect the filing soon."
"There was no way Phaedra was going to put her life on hold for the next decade, awaiting Apollo to be released," a source previously explained. "The marriage was a huge mistake, but it did give her their beloved kids."
"There were serious trust issues with Apollo​, and Phaedra suspects he has been unfaithful, and has been burning through money," the source said. "Phaedra has always been the breadwinner, and she began to resent it."
Nida plead guilty in May to bank fraud and identity theft and was sentenced to eight years in prison. He also has to pay nearly $2 million in restitution.
Meanwhile, Honig added, "Phaedra is as always, focused on the boys, and being a great mother to them."