'I Know I Did My Job Right': Officer Darren Wilson Stands By His Actions In Michael Brown Shooting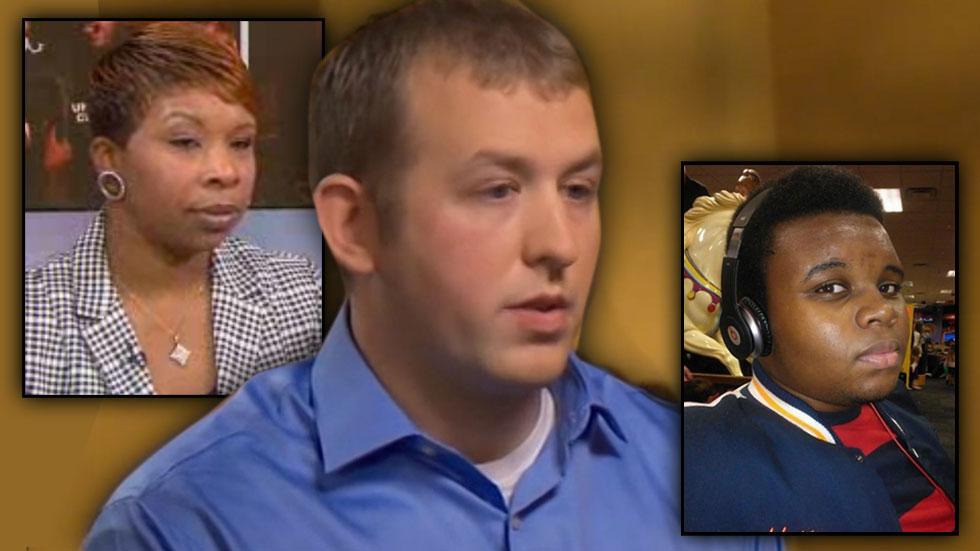 Embattled Ferguson Police Officer Darren Wilson Tuesday broke his silence in the fatal shooting of Michael Brown, telling ABC News' George Stephanopoulos, "I know I did my job right."
Wilson, cleared this week of criminal wrongdoing in the Aug. 9 shooting of the unarmed 18-year-old, said he'd "never wanted to take anyone's life" while serving as an officer of the law.
"That's not the good part of the job," he said in the much sought-after interview, which was filmed in Missouri. "That's the bad part of the job. So, yes, I feel remorse about the shooting."
Article continues below advertisement
Wilson, 28, stressed there was "no way" that Brown had his hands up when Wilson pulled the trigger, as some witnesses had testified.
"That would be incorrect," he said.
Asked about Michael Brown's parents Michael Brown Sr. and Lesley McSpadden — who were very upset Wilson was not indicted in their son's fatal shooting — he called them "grieving parents who are mourning the loss of their son.
Watch the video on RadarOnline.com
"I don't think there's anything I could say, but, again, I'm sorry that their son lost his life," he said. "It wasn't the intention of that day. It's what occurred that day, and there's nothing you can say that's going to make a parent feel better."
Wilson used past tense to describe much of his tenure as a lawman in Ferguson; he cited potential repercussions when asked if he would ever come back to the force.
Article continues below advertisement
"It's going to be different," he said. "There'll be a new normal, but we'll find it somehow."
Deadliest School Shootings In U.S. History
Wilson said he has lived looking over his shoulder in the wake of the shooting, and strong fallout of it.
"You're always looking, you're always wondering if someone'll recognize you, if someone is following you. Just every possibility you can think of," Wilson said. "From where you sit in the restaurant to, you know, where you drive.
Article continues below advertisement
"Everything has to run through your head: It's every time you walk, you make sure no one's following you, everything."
Following the interview, Stephanopoulos said he felt Wilson "has a clear conscience over his actions," which led to widespread riots and arrests in Missouri as result of longstanding tension between citizens and law enforcement.
Brown's parents Michael Brown Sr. and Lesley McSpadden, reacting on a TODAY appearance Wednesday, made clear they did not care for Wilson's comments to ABC.
McSpadden called Wilson's interview "insult after injury" and "disrespectful," while Brown Sr. noted inconsistencies with Wilson's account of events -- that his late son started the conflict and charged at the police officer.
Watch the video on RadarOnline.com
"For one, my son, he respected law enforcement,'' Brown Sr. said. "Two, who in their right mind would rush or charge at a police officer that has his gun drawn? It sounds crazy."
Article continues below advertisement
Their attorney Benjamin Crump ripped Wilson for his comments that the teen looked akin to "a demon" prior to the shooting.
"When you have people of color being killed they try to demonize and play on the stereotypes, and they try to put the police officer who killed our children on a pedestal,'' Crump said. "It's just not right, and we have to fix this system.
"We plan on exhausting every legal avenue possible to give them some sense of justice."
Regarding the ongoing unrest in the St. Louis suburb, as many as 2,000 National Guard troops were sent there after 44 arrests were made during a second night of rioting.
St. Louis County Police Chief Jon Belmar said Tuesday marked "a much better night" for the city in the wake of Monday's fiery demonstrations.
"We saw some protesters out there that were really out there for the right reason," he said. "Unfortunately, there seems to be a few people who are bent on preventing this from happening in the most ideal way that it could."