Riots, Arrests & More: 4 New Developments In Ferguson Unrest After Officer Cleared In Michael Brown Jr. Shooting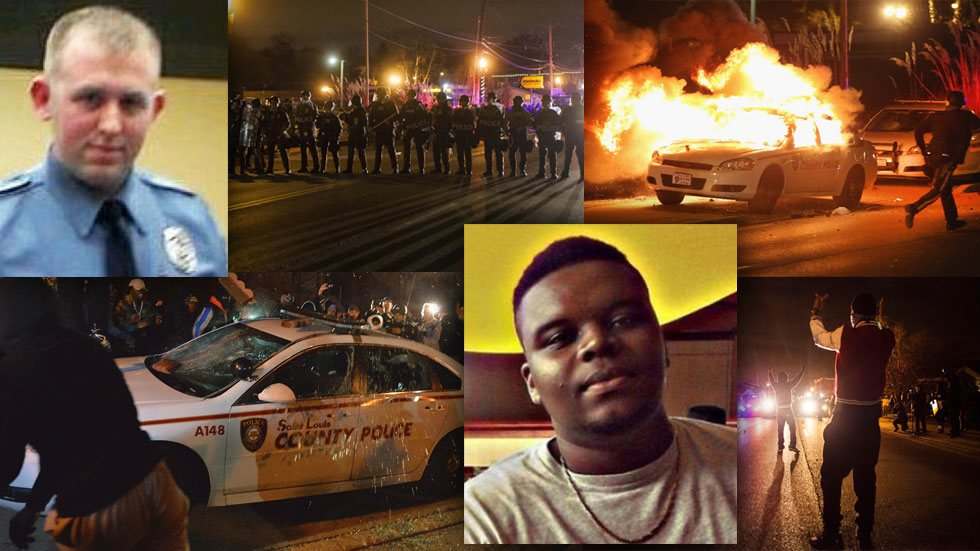 Riots broke out in Ferguson, Mo., and other parts of the country Monday, after authorities announced that a grand jury chose to not indict Officer Darren Wilson in the Aug. 9 shooting death Michael Brown Jr., in a case that has gripped the country's consciousness.
Rioting Ensues
As many as 12 local businesses and two police cars were set ablaze, St. Louis County Police Chief Jon Belmar said, noting that hundreds of gunshots could be heard, as unrest in the area "spun out of control" near where the shooting took place. Belmar said that unless 10,000 more police officers could be swiftly transported to the area, he was skeptical officers on hand could "prevent folks who really are intent on destroying a community." Police said 29 arrests were made during the riot; officers inside used armored cars tear gas to control the masses. Some media on hand to cover the story, such as CNN's Chris Cuomo, were caught on camera in the eye of the storm as authorities tried to break up the crowd. The rioting caused Lambert-St. Louis International Airport to temporarily divert or cancel about 10 incoming planes, as officials noted some demonstrators had been firing guns in the air. No serious injuries were reported in the wake of the riot.
Article continues below advertisement
Watch the video on RadarOnline.com (WARNING: Language Is Explicit)
youtube=https://www.youtube.com/watch?v=SYxlkuZcKJA&w=560&h=315
Watch the video on RadarOnline.com
The Country Reacts
Protestors in the thousands took to the streets in chanting "Hands up, don't shoot," following the prosecutor's announcement. Demonstrations took place in cities including New York City, Los Angeles, Chicago, Seattle, Salt Lake City, Washington, D.C., Denver, Cleveland, St. Louis and Oakland, with the latter two communities playing host to the most tense and damaging demonstrations. In Oakland, protestors swamped Interstate 580, blocking traffic, while the demonstration in St. Louis caused Interstate 44 to be shut down temporarily. President Barack Obama, reacting to the ruling, said that citizens "need to accept that this decision was the grand jury's to make," as America is "a nation built on the rule of law."
Watch the video on RadarOnline.com
youtube=https://www.youtube.com/watch?v=5qsPc-qFpew&w=551&h=340
Grand Jury Decision
Prosecutor Bob McCulloch said that a grand jury composed of three black people and nine white people "poured their hearts and soul into this process," which took more than three months and included testimony from 60 witnesses. "They are the only people that have heard and examined every witness and every piece of evidence," McCulloch said. The prosecutor added that "the most significant challenge" in the case was shielding the grand jury from a media with a "24-hour news cycle and an insatiable appetite for something — for anything — to talk about."
Article continues below advertisement
Watch the video on RadarOnline.com
Shooting Victim's Parents Call For Peace
Following the announcement, Michael Brown's parents Michael Brown Sr. and Lesley McSpadden said in a statement they were "profoundly disappointed" by the ruling, as "the killer of our child will not face the consequence of his actions." Brown's parents said they didn't want to see any violent outbursts in response, asking people to "channel your frustration in ways that will make a positive change," noting that "answering violence with violence is not the appropriate reaction." The parents will speak at a news conference at a St. Louis church on Tuesday.