CNN Broadcasts Purported Audio Containing Gunshots That Felled Michael Brown Jr.; Leaders, Celebrities Fill Pews At Teen's Funeral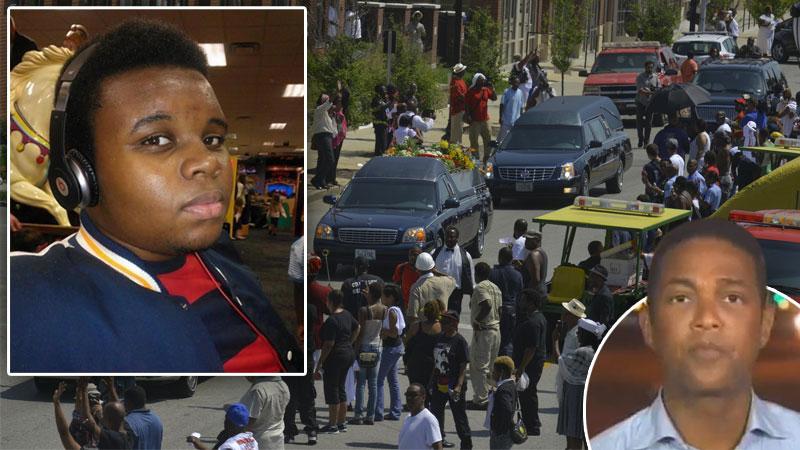 On the same day Michael Brown Jr. was laid to rest, CNN Monday broadcast an audio recording in which the gunshots that felled the 18-year-old Aug. 9 can purportedly be heard in the background.
The recording was taken by an unidentified local who was engaged in, and recording, another discussion at the time of the shooting, the man's attorney Lopa Blumenthal told CNN.
The outlet's Don Lemon said that "CNN cannot independent verify the authenticity of this tape," noting that they "reached out to the FBI for confirmation of their interview with the Ferguson resident who says he made the recording."
Article continues below advertisement
Paul Ginsberg, an expert on audio forensics, said he heard 10 shots on the recording, first a series of six, then four more.
Blumenthal said the pause between the sixth and seventh shots fired could figure as key evidence into the ongoing investigation of the incident.
"I was very concerned about that pause ... because it's not just the number of gunshots, it's how they're fired," Blumenthal, said the FBI has perused the recordings, told CNN. "And that has a huge relevance on how this case might finally end up."
"We're not anti-police — we respect police," Sharpton said at the proceedings. "But those police that are wrong need to be dealt with just like those in our community that are wrong need to be dealt with."
Politicians such as Missouri Sen. Claire McCaskill and Rep. William Lacy Clay also were in the pews on the somber day.
Watch the video on RadarOnline.com: