'Eventually, Justice Will Prevail': Michael Brown Jr.'s Parents Want End Of Rioting, Beginning Of Legal Proceedings Against Officer Who Shot Son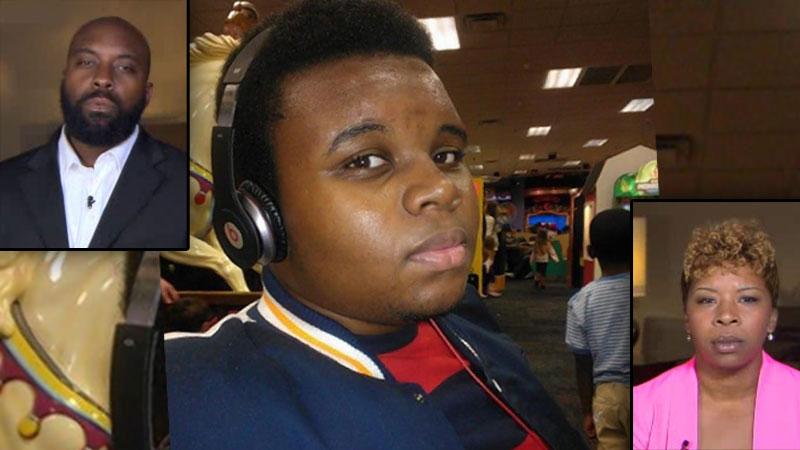 Michael Brown Jr.'s parents, appearing on the TODAY show Tuesday, declared that only "justice will bring peace" to the St. Louis suburb of Ferguson, where riots and mayhem have been going for more than a week since their unarmed son was fatally shot by a police officer Aug. 9.
Michael Brown Sr. said that the spotlight needs to be kept on the quest for justice for his late 18-year-old son — not the mayhem and riots that have somewhat overshadowed the initial incident.
Article continues below advertisement
"That's who we need to keep the focus on -- Michael Brown Jr.," the grieving father said.
Mother Lesley McSpadden said that civilians need to remain focused, strong and law-abiding.
"The violence needs to stop," she told Matt Lauer. "When justice has prevailed, then maybe they'll regain their trust in the locals.
"But right now, it's really out of control."
McSpadden added that the rioting has hampered the justice process in her son's death — notably, legal action taken against Darren Wilson, the police officer who fired the fatal shots.
"Him being arrested, charges being filed ... him being held accountable for what he did," she said of Wilson.
Watch the video on RadarOnline.com:
Visit NBCNews.com for breaking news, world news, and news about the economy
The boy's father said that he has faith in the system, and believes that "eventually, justice will prevail."
Missouri State Highway Patrol Capt. Ron Johnson confirmed that 31 arrests were made late Monday as more rioting continued in the torn-up area, on the day that National Guard rolled into town.
He characterized the ongoing rioting as "not acts of protesters, but acts of violence.
"These criminal acts came from a tiny minority of law-breakers — it is criminals who throw Molotov cocktails, fire shots and endanger lives," Johnson told MSNBC, adding that those who did protest in peace "were put in danger by that element of criminals that seemed to get into their crowd."
As we previously reported, federal officials who performed an autopsy on the teen confirmed he was shot six times, adding that two of the shots were aimed at his head. A shot traveled through Brown's eye, face, jaw and through his collarbone, leading medical officials to deduce that Brown would have died at the scene even if he was given medical assistance immediately.