Exclusive
There You Go Again! Britney Spears Ex-'Manager' Sam Lutfi Gets In On The Act In Amanda Bynes Mental Hospital Drama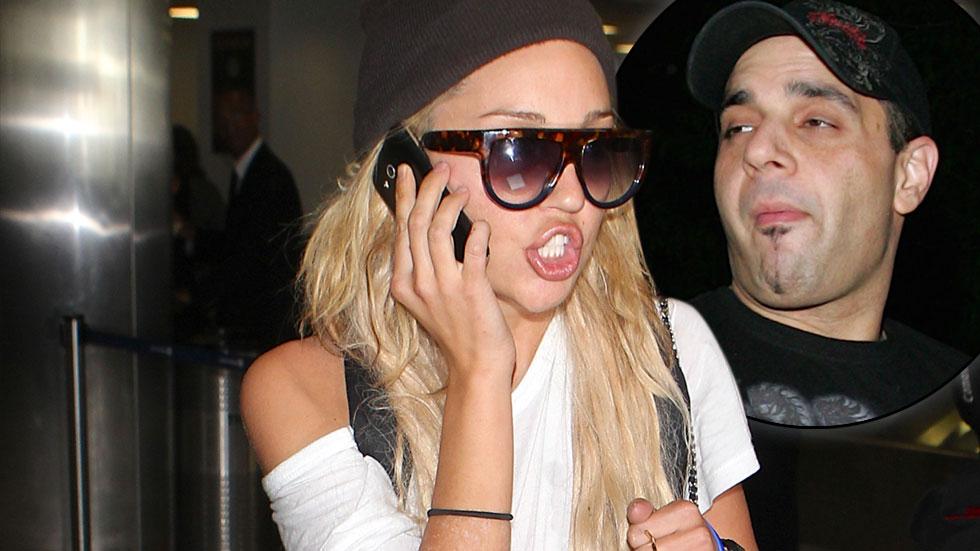 Sam Lutfi is dancing with the stars again.
After Britney Spears' one-time manager had been in contact with Amanda Bynes before she was placed on yet another 5150 hold in Southern California, those close to the situation are wondering why he's getting involved in another messy celebrity meltdown.
And in a stunning development, RadarOnline.com has exclusively learned that Lutfi sent two of his own attorneys to Las Encinas, despite the fact that the Bynes family attorney Tamar Arminak was already there awaiting Amanda's arrival.
Article continues below advertisement
"It was absolutely shocking that Sam had the nerve to send his own attorneys to Las Encinas; there was absolutely no point in having anyone but the Bynes family attorney, and Amanda's parents, Rick and Lynn there," a family source told Radar. "What was Sam's motivation in doing this? His attorneys have no knowledge of Amanda's case and history.
"All it did was create a more chaotic environment. The problem is that Amanda's dad, Rick, thinks that Sam has some credibility, despite his track record with Britney. Rick believes that Sam is trying to redeem himself after all of the Britney drama. Lynn is definitely more skeptical of Sam."
The source said that Lutfi's pattern of cozying up to the celebs "during their troubling times is cause for concern."
Lutfi was by Britney's side during her very public and tragic meltdowns, which resulted in her losing custody of two sons, being placed on two psych holds, which resulted in her father, Jamie, becoming her conservator.
Britney's parents Jamie and Lynn were granted restraining orders against Lutfi, who never showed up in court to contest on the witness stand.
Article continues below advertisement
Over the years, Lutfi has tried to establish chumminess with Lindsay Lohan, Courtney Love and even Michael Jackson's teenage daughter, Paris. Currently, Lutfi is working with Courtney Love.
In 2010, an entire family was granted a restraining order against Lutfi for allegedly threatening and harassing them.
Samuel Barth, an aspiring actor from Virginia who moved into Lutfi's Los Angeles neighborhood in early 2010, says their friendship went darkly south after he moved in with Lutfi rent-free.
"Mr. Lutfi began to insist that my mother was 'evil,' and my family relationships seemed unhealthy," he said, noting that the controversy magnet made "a concerted effort to turn my minor sister against our mother, incessantly calling, emailing, and texting about me and our supposedly unhealthy family life."
A judge granted a temporary restraining order for Samuel Barth's mother, Deborah, his brother Nathan, and his minor sister Torey.
Article continues below advertisement
Deborah stated in a sworn declaration, "Lutfi has persistently stalked and harassed me, repeatedly calling and sending my family ... and even tried to disrupt my relationship with my minor daughter, offering her a cell phone she could use to avoid my supervision, suggesting he send her airline tickets to Los Angeles, and urging her seek a court order to terminate my custody."
Lutfi never filed any legal formal response to the Barth's claims.
A libel and defamation lawsuit Lutfi filed against Britney and parents was dismissed midway thru the trial, which he is appealing.
The Bynes source told us, "Sam has told Rick and Lynn he has moved on from Britney."
However, on September 7, when news broke that Britney had broken up with boyfriend, David Lucado, Lutfi posted a message on social media to the law clerk, "David, run and run fast before they do to you what they did to me @breatheheavycom @britneyspears they are law breaking parents w/ no souls."
Article continues below advertisement
"Does that sound like someone who has truly moved on?" the insider asked. "If Sam was genuinely concerned for David, why reach out to him publicly?"
And the insider also pointed out Lutfi's posts on Twitter about Bynes. "Why is he discussing Amanda on Twitter? It's unseemly and wreaks of having a hidden self serving agenda."
Over the weekend, Lutfi was busy on social media promoting his involvement with Amanda Bynes, even thanking the media.
EXCLUSIVE DOCUMENTS: Sam Lutfi Suffers Another Setback In Britney law Suit
"Thanks Richard @famousrichard @PerezHilton. She's in good hands now. Many thanks to all those that helped along the way #getwellAB," Lutfi boasted on Twitter.
Courtney Love, who has been involved with Lutfi on a professional level on and off for the past several years chimed in and said, "Sam, great job @SamLutfi with Amanda. May she get well soon and enjoy a bright healthy successful future. xc"
"Thank you @Courtney hope you're enjoying your east coast shopping spree marathon," Lutfi replied. "#SavingtheEconomy bwahaa love you dude,"
For the time being, "The only people allowed to see Amanda will be her parents, but she does have monitored phone access. Amanda isn't in possession of her cell phone, but does have phone privileges even though she is under a 5150," the source added.
Request for comment from Lutfi and the Bynes family attorney weren't immediately returned.