Exclusive
Britney Spears' Lawyers Set To Grill Sam Lutfi Over Courtney Love's Bizarre Tweets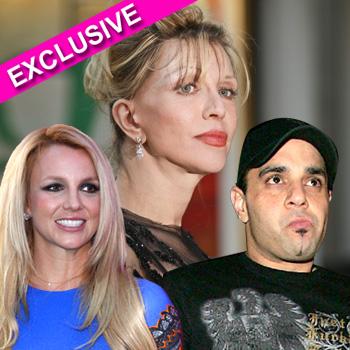 Article continues below advertisement
"It's interesting that Courtney Love has now become a part of this lawsuit," a source close to situation told RadarOnline.com. "She's posted a flurry of tweets about Sam and Britney's upcoming court case."
VIDEO: Britney Spears Cries On The X-Factor
Among Courtney's many tweets is her opinion on whether Britney should be made to take the stand during the trial — something she makes no bones about!
"She can judge X factor but she can't talk in court?? She was in court weeks ago talking…" Love Tweeted.
"If you can't smell a rat in @britneyspears conservatorship then wake the fack sic up!" She followed up with.
"It has been rumored that Sam is managing Courtney's career, so Britney's lawyers will want to cross examine him and will want the jury to know what Sam has told Courtney about the case," the source said.
"Britney and Courtney don't know each other – and Courtney knows nothing about what Britney has been through in the last four years.
Article continues below advertisement
"Sam was poisonous to Britney – she lost custody of her kids while he was her manager, and she was also hospitalized twice for mental health issues. It's no coincidence that she's now doing much better without Sam in her life."
Spears' attorneys will also try to decipher if Lutfi told Love to tweet: "A 'Svengali' doesn't take @britneyspears to meet @DonPassman in order to hire him as a lawyer! @samlutfi was bringing her to best team alive."
"The fact is that people in Britney's life at the time had to go through Sam to communicate with her. This will all be revealed at the trial," the source revealed.
Meanwhile, as RadarOnline.com previously reported, Spears is "terrified" she will be forced to take the stand in the trial, even though the judge handling her conservatorship has ruled she can't.
"Britney doesn't want to see Sam Lutfi or be in the same room with him again, ever," a source previously told RadarOnline.com. "Britney is terrified that she is going to be forced to testify in the trial, even though the judge handling her conservatorship ruled she isn't mentally competent to participate."
Article continues below advertisement
Lutfi is suing Britney and her parents, Jamie and Lynne Spears for breach of contract, libel and defamation for comments the Toxic singer's mom made in her book, Through The Storm.
The trial is expected to last nearly three weeks, with Lutfi, Lynne and Jamie and Brit's fiance, Jason Trawick all scheduled to testify.
RELATED STORIES:
Ouch! Britney Spears Rejects Former Duet Partner On The X Factor
Sorry Simon! The Voice Crushes Premiere Of The X Factor
Demi Dissed! Angry Singer Lashes Out At Lovato On The X Factor
Simon Cowell Slams 'The Voice,' Confirms Khloe Kardashian Frontrunner For Hosting Gig