Exclusive
Britney Spears Internet & Cell Phone Use Is 'Restricted & Heavily Monitored'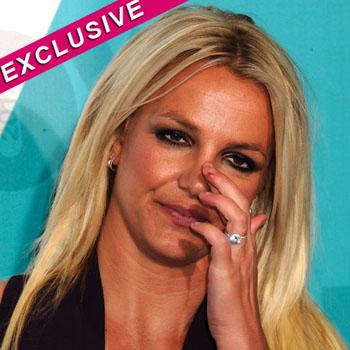 By Jen Heger - RadarOnline.com Assistant Managing Editor
Britney Spears has been under a conservatorship for more than four years now, and as part of that, those close to The X Factor judge keep a close eye on her internet and cell phone use, RadarOnline.com is exclusively reporting.
"Britney's cell phone and internet use is restricted and heavily monitored, and this is done for her protection," a source close to the situation tells RadarOnline.com. "Britney's father, Jamie, and her fiance, Jason, want to make sure that her former manager, Sam Lutfi, isn't able to contact her. Britney and Jason essentially share a cell phone, and it's routinely checked to see who has been calling. Furthermore, the cell phones have been programmed to block calls from phone numbers associated with Lutfi. Brit's computer usage is also restricted in the sense that certain websites are blocked. Her family doesn't want Britney reading negative stories that would upset her. Again, this is all done with love and for her well-being."
Article continues below advertisement
Meanwhile, a restraining order that the conservators had filed against Lutfi on behalf of the pop star and her children expired earlier this year. "After the restraining order expired, the conservators went to extra lengths to make sure that Sam wasn't able to contact Britney because there was no longer any criminal threat if he were to violate terms of the restraining order," the source says.
As we previously reported, Lutfi is suing Britney and her parents for defamation and breach of contract. Lufti took particular issue with Lynne Spears' portrayal of him in her book, Through The Storm, that discussed Lutfi's role in Britney's life leading up to her very public meltdown, which resulted in Jamie gaining conservatorship of his daughter in 2008.
Jason Trawick, Jamie and Lynne Spears, talent agent Kevin Huvane and current manager Larry Rudolph are all expected to take the stand against Lufti in the upcoming trial.
Other witnesses expected to testify include Britney's ex-assistant Ali Sims, former manager Lou Taylor, who has worked with the singer over the years, and a slew of lawyers including Laura Wasser, who represented Britney in divorce proceedings against Kevin Federline.
Article continues below advertisement
However, one person that won't be testifying is Britney herself.
According to documents, obtained exclusively by RadarOnline.com, the defense's opening statement will be: "This case was filed by Plaintiff Sam Lutfi against Defendants Lynne Irene Spears, James Parnell Spears, and their daughter Britney Jean Spears in February 2009. In 2008, the Los Angeles Superior Court ordered that a conservatorship be established for Britney. The conservatorship continues to the present; thus, she is under the supervision and control of the court. As a conservatee, Britney is not allowed by law to defend herself. The court has directed her to be defended by her two Co-Conservators, Andrew Wallet and Mr. Spears."