Britney Spears' Sons Play Big Brother To Dad Kevin Federline's New Daughter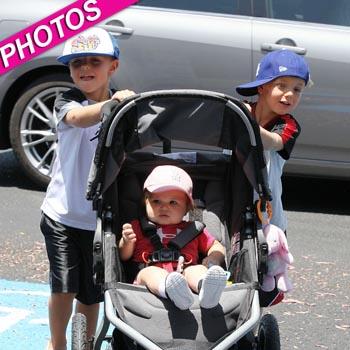 Britney Spears' boys, Preston and Jayden, did a great job playing big brother to their half-sister, Jordan, as they pushed her in her stroller through Thousand Oaks on Saturday.
RadarOnline.com has the adorable photos of the boys, six and five, on a family day out at an indoor playground with their dad Kevin Federline and his girlfriend Victoria Prince.
The boys were rewarded with a Slurpee for their efforts, and they appeared to be having a blast with it.
Article continues below advertisement
Kevin and Victoria, who have been together four years, welcomed daughter Jordan last August.
The one-time back-up dancer and rapper was married to Spears for nearly three years but after a very public meltdown and a bitter court battle, he was awarded full custody of his sons after their divorce.
Spears, who remains under the conservatorship of her father and who is engaged to Jason Trawick, has extensive visitation time with her boys.