Exclusive
Britney Spears Insists She Is Ready For The X Factor, Despite Fears To The Contrary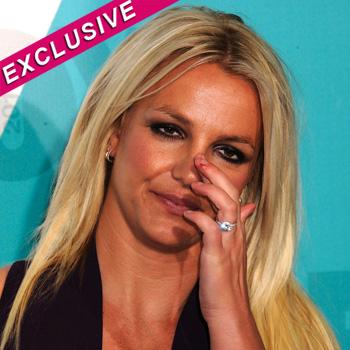 Article continues below advertisement
As previously reported, Spears was in New York City for the Fox Upfronts last week and was far from well put together. The 30-year-old singer had ratty hair and bleeding, bitten down nails, the results of years of living on her nerves, adding to concerns that she isn't ready to undertake her new, high profile role.
"Britney is well aware of what the critics are saying about her. She is anxious to prove to everyone that she isn't just a ditzy blonde and she is hunkered down with Jason, who will be with her at all times during the auditions and filming," a source close to the situation tells RadarOnline.com. "Britney has been asking a lot of questions about the process and is seeking advice from Simon Cowell about how she can be the best judge possible. She is aware of the comments that Howard Stern made about her recently, saying the only reason people would be tuning in to watch her is because she is a trainwreck. She just doesn't care that he made those comments. Britney doesn't take that seriously and knows he is just promoting himself being on America's Got Talent. Britney is excited for the public to see a new side of her and is using the criticism to give her motivation to prove all the naysayers wrong."
However, Brit's fiancé has his concerns that she will not be able to deal with the stress and will be monitoring her closely throughout.
"Jason is obviously concerned about the pressure Britney is placing on herself," the source says. "She is a perfectionist when it comes to her work but she is still under a conservatorship and she does continue to see a mental health professional at least once a week. If Jason feels that more time with Britney's therapist is needed, that will absolutely happen. Nothing matters more to Jason and her father than Britney's continued happiness and well-being, period. If they didn't think she could handle the job, she wouldn't have accepted it. The judge handling Spears' conservatorship will be notified immediately if Britney is having any difficulty. It should be noted that Britney has been absolutely so warmly embraced by Simon and L.A. Reid and this has been greatly appreciated. She just doesn't want to disappoint them."
Article continues below advertisement
Auditions will begin over the summer all around the country and Britney's attendance will be coordinated around her sons, Sean Preston, and Jayden James' schedules.
"The boys are welcomed on the set and will have their own play area. Britney loves her sons so much and is thankful that they have been welcomed as well," the source says. "Simon really wants Britney to feel that the X Factor staffers and executives will become her second family."