Exclusive
Britney Spears Family 'Ecstatic' Over Engagement News, Welcomes Jason Trawick With Open Arms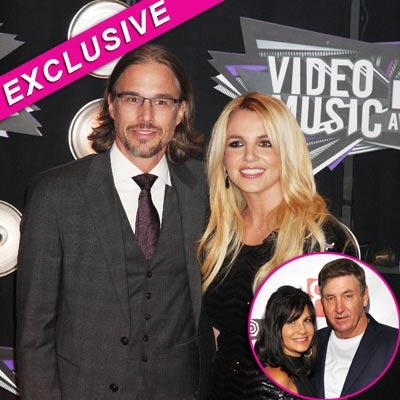 Article continues below advertisement
Unlike Brit's first two marriages, with Jason Alexander, which lasted a whopping 55 hours before being annulled, and to back-up dancer, Kevin Federline, her family is ecstatic at her choice of husband this time round.
"Brit's folks are simply over the moon that Jason will become a member of the family. Her parents love and trust Jason with their daughter," a source close to the family tells RadarOnline.com. "For a long time it was uncertain if Britney would ever be able to find true happiness and love because of her various mental health issues, but Jason is so patient, loving and understanding, and fully supportive of Britney. Jason is very close to Britney's mom, Lynne."
Media reports circulated on Friday morning that Britney would get engaged in Las Vegas Friday night, however, that was never the plan.
"Jason proposed to Britney Thursday night in Los Angeles. He would have never proposed to her in Las Vegas because she got married there. Jason and Britney will be celebrating their engagement in Vegas with friends tonight though. It will be an engagement/birthday celebration for Jason," the insider reveals.
Article continues below advertisement
The engagement-birthday celebration pictures and exclusive details have been sold to People magazine.
RadarOnline.com has exclusive details on the ring. A source close to the couple reveals that it is from jewelry designer to the stars, Neil Lane, and is over three carats. It is a platinum and diamond band with a large classic round diamond. The source describes the ring as simple, elegant and totally Jason and Britney's style."
As RadarOnline.com previously reported, there are several obstacles Spears must overcome before tying the knot though.
Britney won't be getting married until several lawsuits that have been filed against her, including one by her former manager, Sam Lutfi, are settled or dismissed. Settlement talks between lawyers for the Spears conservatorship, and Lutfi's camp are underway, which could be resolved early next year.
Article continues below advertisement
"Lawyers for Britney's conservatorship have been successful in keeping her from being deposed in the Lutfi litigation, and the lawsuit involving her Elizabeth Arden fragrance," the source shares. "First of all, everyone involved wants Britney to get married once the conservatorship has been lifted. She could get married under the conservatorship, but the judge would have to sign off on it.
"If that were to happen, lawyers repping Lutfi would absolutely go into court and argue that if Britney were able to get married, she should be able to be deposed. There is no way Team Spears is going to let that happen. It will likely be a long engagement, which is fine with Britney and Jason. They are 100 percent solid and very much in love."
Meanwhile, it will be a very special holiday season for the entire Spears family.
"Britney has never been happier or healthier, and that is all her father Jamie has wanted since taking conservatorship of his daughter," the family insider tells RadarOnline.com. "Once the lawsuits are dealt with and handled, lawyers for Jamie will go to court and ask the judge to end the conservatorship. Judge Reva Goetz is the only person that can end it. If that happens, the wedding will take place almost immediately."